Two international investment themes for 2019
Recent articles
BlackRock ETF Specialist Blair Hannon shares the asset manager's views on the global outlook and why investors should look at quality U.S. stocks and emerging markets.

A written summary of the interview is provided below.
By Vishal Teckchandani
Relatively low interest rates, few signs of economic overheating and generally sound financial conditions across countries are factors expected to support global economic expansion in 2019, according to BlackRock.

However, investors should be wary that the probability of a U.S. recession will rise from the turn of the decade. Accordingly, equity investors should consider tilting portfolios towards two key themes: American companies with robust financial health and emerging markets, where valuations appear attractive.

BlackRock is the world's largest asset manager with over US$6 trillion in assets and also owns the iShares brand of exchange-traded funds (ETF). The group recently released its BlackRock Investment Institute Global Investment Outlook for 2019.

"2018 has been a reasonably tough year for markets. The ASX 200 is down and there are actually a very few markets in the U.S. that are trading up at this point in time," says Blair Hannon, ETF Specialist at BlackRock.

"We do expect as our base case some positive performance out of equities and bonds for 2019 though more uncertainty."

Headwinds to expect include to and fro trade disputes between the U.S. and China, tightening monetary policy in the U.S. and political risks in Europe (namely Brexit and Italy's budget).

"The U.S. Federal Reserve has talked about going to a neutral rate. We do see rates potentially rising but they will be capping out below pre-global financial crisis levels," says Hannon.

"And you may have noted that there is some recession talk in the U.S. We don't see any imminent threat of recession at this point but potentially through 2020 that might become more material."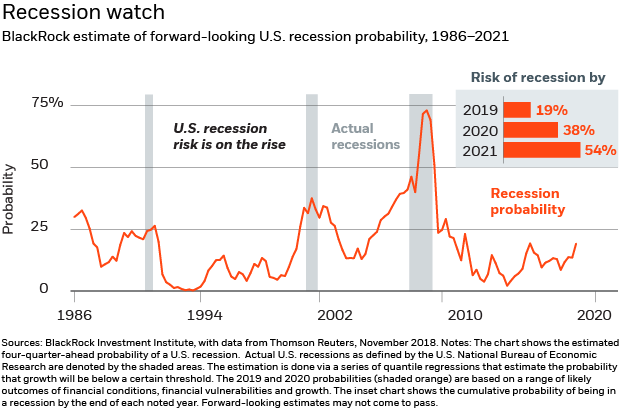 Against a backdrop of uncertainty and the fact that the current bull market is one of the longest on record, BlackRock points to two investment themes for equity investors.
Investment theme 1 – Quality U.S. companies
The first is U.S. companies in solid financial shape.
"What does quality mean? Quality means access to companies that have strong balance sheets, strong earnings growth and really good free cash flow," says Hannon.
Specifically, Hannon points to healthcare as one area where quality is prevalent. Companies in the sector generally possess recession-resistant earnings profiles given the nature of the products and services which they sell. Healthcare stocks also tend to outperform late in the cycle.


In the chart below, this view is supported by favourable demographic and innovation trends, and a strong earnings outlook from the sector.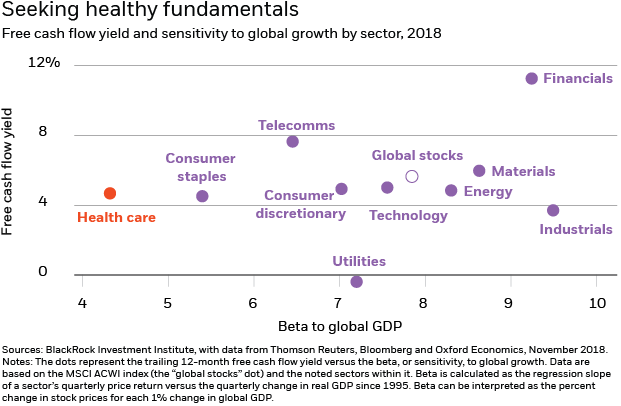 Another way to play the quality theme is by investing in technology. "It's probably not the first thing that comes to mind but we think there's pretty good earnings growth from many tech companies and also reasonably good balance sheets," says Hannon.
Investment theme 2 – Emerging markets
Attractive valuations and a backdrop of economic reforms and robust earnings growth support the case for emerging markets stocks. BlackRock also views financial contagion risks as low and the issues seen by nations such as Argentina and Turkey have largely passed.


"We think there are key areas of opportunity in emerging markets. To note, what are emerging markets these days? Emerging markets are predominantly Asia, so you've got a big chunk of that or 30% being China then South Korea, Taiwan and you've got India," says Hannon.


"It really is the Asian story. We think that out of emerging markets, Asia is probably the better place to play."
He said the nature of emerging markets has changed significantly in the last 20 years, with the largest sectors now being financials, technology and telecommunications, and many of these companies are in good shape and expected to deliver earnings growth.


How can investors access these themes?
Investors can access these themes by investing in international shares through nabtrade or via fund managers who offer international equities products. There are also a variety of ETFs which allow investors to access some of these markets directly.


For further information, login to nabtrade:
Under 'Insight Centre', select 'Managed Funds' to view ASX mFund choices
Under 'Insight Centre', select 'ETFs' to use our ETF scanner (don't know what ETFs are? Check out our ETFs 101 video)


Other managed investment choices including listed investment companies (LIC) and listed investment trusts (LIT). View our LICs & LITs 101 video.