As investors continue to grapple with higher rates, sticky inflation and market volatility, a defensively positioned portfolio could help to protect investors from macroeconomic and market risks.
Despite central banks around the world hiking rates at the most aggressive pace in recent times they are not even close to reaching their respective inflation target bands. As rates continue to rise so too does the risk of recession. Europe and New Zealand have already entered recessionary territory, and other countries may soon follow suit.
It's not all doom and gloom, however. At some point during this year, we should see interest rates reaching their peak and inflation begin to subside. It's going to take some time for inflation to fall back to the more stable 2-3% range. This will assist mortgage holders, renters, businesses, and the average Australian consumer with the cost of living.
Yet investors are contending with the unfortunate fact that historically, 75% of rate hike cycles in the US have resulted in a recession in the country since 1955.
US Federal Fund effective rate versus recession periods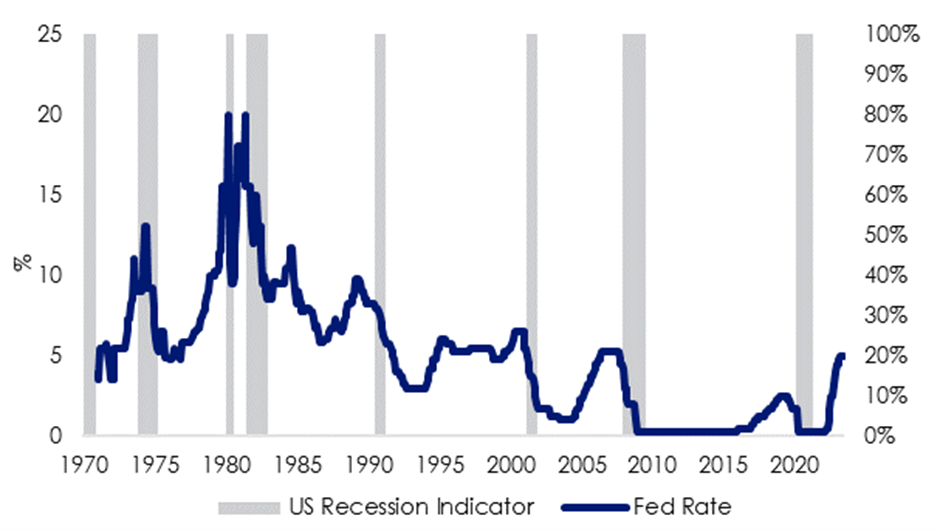 Source: Board of Governors of the Federal Reserve System (US)
Macroeconomic indicators suggest that the US is in the last stage of the economic cycle with a recession likely by the end of 2023. The US government bond yields between the 2 and 10 year are inverted, and manufacturing activity is contracting. Yield inversion has historically been a leading indicator for a recession in the next 6 to 18 months. ISM Manufacturing PMI below 50 highlights that activity is contracting.
US ISM Manufacturing Index
Source: ISM
10yr less 2yr US government bond yield

Source: Bloomberg

And while the US has a potentially higher chance of entering a recession this year than Australia, it will be important to watch the key local economic data prints such as CPI, GDP and unemployment numbers as they provide an overall picture of the state of the economy. 
As Portfolio Managers we are often asked what type of defensive assets should be held during this period of the economic cycle. While there is no infallible answer, the tried and tested assets listed below should be considered as part of a defensive allocation for an investment portfolio:
1. Gold:

Is one of the oldest defensive assets and physical gold has a low correlation to other asset classes such as equities, bonds or property.  Currently there are several factors converging which could see the gold price reach an all-time high. The gold price is currently testing the base of its recent up trend at around $1,950 USD per ounce, and with the continued recessionary pressures and geopolitical risks there is every chance that gold will push above $2,000 again towards $2,075.  We think there is more chance of upside than downside currently and there has also been strong central bank buying of late helping to stabilise the price.
2. Short term US treasuries:

Are often described as one of the major almost risk-free asset classes, and they are now yielding about 5.2%.  We know that the US is still the leading global economy despite the economic headwinds it faces, the US should maintain this commanding position for years to come.  Many finance calculations and risk models require a base calculation for the risk and US treasuries are commonly used to represent the low-risk option.  As rates continue to rise, a short-term US Treasuries exposure can provide a reasonable hedge to markets.
3. Floating rate bonds:
This type of bond adjusts its coupon based on an underlying interest rate, if interest rates go up the coupon on the bond also increases.  This minimises the risk of losing capital as interest rates go up.  In a fixed rate bond if interest rates go up the value of the bond goes down and hence the investor could lose part of their investment.  There are multiple floating rate options in Australia that are yielding 4.5% to 5.5% currently.
4. Global infrastructure:
Assets like electricity, water or gas companies, rail lines, pipelines, airports, toll roads, telecommunication towers are the backbone of modern society.  In the current inflationary environment many infrastructure companies can adjust their pricing to keep pace with inflation.  There is vast spending taking place by governments within infrastructure projects especially with ageing utilities and changing population needs. A recent report by consultancy firm McKinsey estimated that the developed world needs to spend $70 trillion by 2035 to maintain its ageing infrastructure.  Infrastructure also has a low correlation to other asset classes so can act as a portfolio diversifier while at the same time paying a reasonable yield.
5. Quality companies:
Adjusting investments through a downturn is difficult as picking the top and bottom of the market is nearly impossible.  The focus should be on having the right asset mix, and in that respect, a focus on quality companies has proven to be one of the better options.  These are companies that have a high return on equity, stable year on year earnings growth and low debt.  Companies with these traits tend to fall less in a downturn and bounce back faster in a recovery.
We've obviously focused on defensive assets but there is often a bias to short term investment horizons rather than longer term.  The current economic cycle will play out over the next few years, but anyone investing for retirement, or over the longer term needs to be aware that by the time their investments are realised, the cycle will have changed.
At the start of 2023 there was a fair amount of negative talk about the global sharemarket and many investors pulled money out fearing short-term market declines.  However, the NASDAQ and S&P500 are up 30% and 15% respectively year to date. Anyone sitting on cash would have missed out on this upswing.
There are many ways to implement the defensive strategies listed above, ETF's however offer an easy way to diversify your investments in a single trade. 
BIOGRAPHY & DISCLAIMER
Jamie Hannah is Deputy Head of Investments & Capital Markets at VanEck Investments Limited. Analysis as at 20 July 2023. This information has been provided by Firstlinks, a publication of Morningstar Australasia (ABN: 95 090 665 544, AFSL 240892), for WealthHub Securities Ltd ABN 83 089 718 249 AFSL No. 230704 (WealthHub Securities, we), a Market Participant under the ASIC Market Integrity Rules and a wholly owned subsidiary of National Australia Bank Limited ABN 12 004 044 937 AFSL 230686 (NAB). Whilst all reasonable care has been taken by WealthHub Securities in reviewing this material, this content does not represent the view or opinions of WealthHub Securities. Any statements as to past performance do not represent future performance. Any advice contained in the Information has been prepared by WealthHub Securities without taking into account your objectives, financial situation or needs. Before acting on any such advice, we recommend that you consider whether it is appropriate for your circumstances.