US elections, takeovers, cyber security, and bitcoin dominated the news this week as the bulls stuck a tentative toe into the market and nudged the S&P/ASX200 over 7000 on Wednesday, before falling back to a close yesterday at 6964.
 The 0.5% downtick on Thursday of the index is an indicator we remain in bear territory. As the graph shows, over the past 12 months the index is down 6.19%, over six months it is up 0.33%, but over three months its down 1.51% and one month up 4.44%.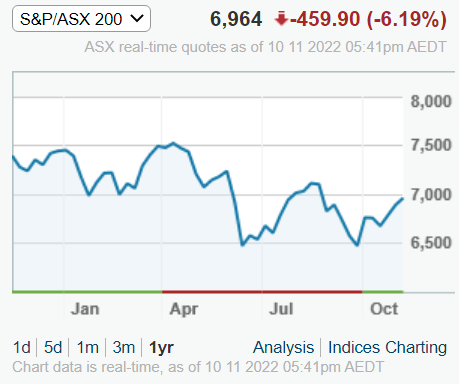 Source: nabtrade
The takeaway is we are stuck in a broad 800-point range, and while the downside remains open to any 'black swan' event, the upside is constrained until we can clearly say inflation has been beaten, and the path to interest rates heading down opened.
Thursday's downtick came as no surprise, given the lead we were given by European and American markets the previous night. European markets have spent the week digesting Monday's news that Euro zone GDP was rapidly slowing for the 19-member bloc, while inflation was still soaring.
US markets were down following uncertainty if the midterm elections to select new members of Congress in the US would deliver Republicans with sufficient veto power to bloc future tax and spending plans by the incumbent government.
In early European trading overnight markets were down slightly, however, US stock futures were pointing to a positive start to the day. How the US performs and its impact on Australia's open on Friday will be influenced by the release of key US consumer price figures.
Consensus points to a US October CPI rise of 0.6%. Surprise to the upside would fuel fears the US Federal Reserve will continue to deliver big interest rates hikes. A lower number would put heat under markets as it would raise expectations inflation is coming under control.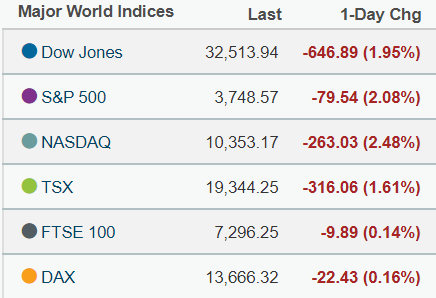 Source: nabtrade 10 November 2022
In market highlights, the big news was the $18.4 billion buyout offer for Origin Energy (ORG) by a consortium of Canada's Brookfield and LNG group MidOcean Energy. The bid has been recommended by the Origin board.
The consortium said it would split Origin into an electricity generation and gas supply business, with Brookfield earmarking $20 billion of new investment in renewable capacity and storage.
Origin's share price was sitting at $5.80 prior to the announcement but leapt $2.02 or 34.77% to a close yesterday of $7.83, although it remains below the $9 a share offer. The offer is a 16% increase on the consortium's original offer in August of $7.95 a share.
Origin Energy year-to-date share price chart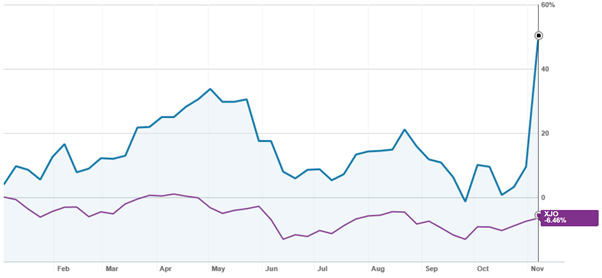 Source nabtrade 10 November 2022
The Origin offer failed to inspire expectations of further consolidations in the space, with AGL Energy (AGL) down 9c to $7.55 and Santos (STO) down 12c to 7.52   
Digital Currency Turmoil
In currency markets, Bitcoin continued its downward plunge as the largest global exchange of the digital currency by volume, Bifinance, dropped plans to bail out Sam Bankman-Fried's popular FTX exchange following a due diligence process.
Bitcoin has had a bad year, falling 75% from a high of $US68,982 to just under $US16,000 yesterday.  It's likely the industry will require more regulatory controls if it is ever to become a mainstream investment.
Medicare data spills onto street
Despite ongoing fallout from the hack of Medibank Private's (MPL) client data by the REvil Russian ransomware group, the share price of the health insurer was relatively stagnant as reports emerged yet more client data had been released on the dark web. Medibank has said all its 9.7 million current and former customers are potentially affected as the drama plays out. The hackers have demanded $US10 million in ransom to stop further data being released, but Medibank has been adamant it will not pay.
It's share price was up 2c to $2.79 yesterday after hitting an intra-day high of $2.83 and a low of $2.78. 
Telecommunications group Optus Australia has said its data breach to a hacker in September would cost at least $140 million in remedies. The Medibank issue is more serious with more sensitive data involved.
In the materials space BHP Group (BHP) was down 62c to $40.56 while Rio Tinto (RIO) was off 33c to 98.30. However, over the past five days BHP is up 6.18% and Rio 8.80%. In consumer stables Woolworths (WOW) was up 55c to $33.75 and is up 4.78 % over five days. Building group Lend Lease (LLC) was down 5c to $7.96 but was up 2.31% over five days, while in healthcare Sonic Healthcare (SHL) rose 23c to $32.50 and is up 0.93% over five days.
5-day sector heat map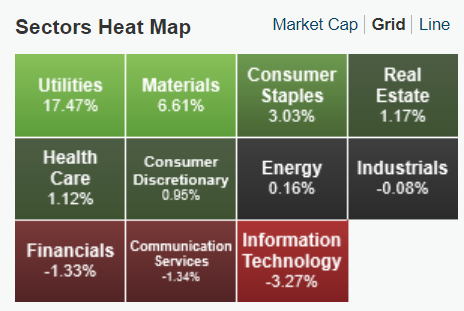 Source: nabtrade 10 November 2022
Analysis as at 10/11/2022. This information has been provided by WealthHub Securities Limited ABN 83 089 718 249 AFSL No. 230704 (WealthHub Securities). WealthHub Securities is a Market Participant under the ASIC Market Integrity Rules and a wholly owned subsidiary of National Australia Bank Limited ABN 12 004 044 937 AFSL No. 230686 (NAB). Whilst all reasonable care has been taken by WealthHub Securities in reviewing this material, this content does not represent the view or opinions of WealthHub Securities. Any statements as to past performance do not represent future performance. Any advice contained in the Information has been prepared by WealthHub Securities without taking into account your objectives, financial situation or needs. Before acting on any such advice, we recommend that you consider whether it is appropriate for your circumstances.