Heading towards the holiday season the question is can the Australian bourse end the year in positive territory? The answer is it's possible, but equity markets are not out of the woods yet despite a seven-week rally.
The Australian bourse defied negative leads in Europe and the US and opened Thursday higher, with the S&P/ASX200 etching up a 0.19% rise at the close to 7135.7.
Week to date the index closed 2.47% higher and for the month a more substantial 7.07%. But year-to-date the index remains down 3.18%.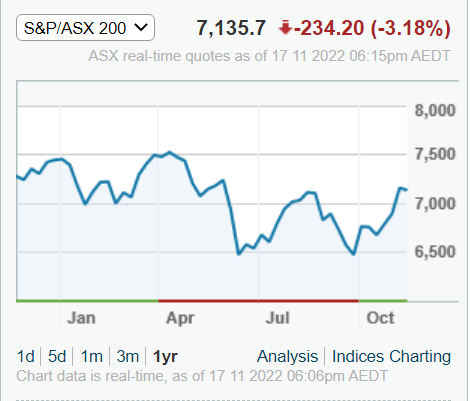 Source: nabtrade
Before Thursday's modest gains, markets in Europe fell into the red as the UK recorded a worse than expected October inflation rate of 11.1%, on the back of rising energy, transport, and food prices. Global bank Citi has forecast the UK inflation rate could hit 18% next year, which does not bode well for the rest of the Eurozone where inflation is currently at 10.7%.
In the US easing fears of run-away inflation allowed the S&P500 to make early gains in the week but a slew of corporate earnings not hitting the mark led to a pullback overnight on Wednesday.
Early indications are US markets will open higher on Thursday, but the bear market rally of the past six weeks could be running out of steam.
Fund managers remain concerned analysts and markets have yet to price in the impact of recession on US corporates, and the downgrade in earnings it implies. There is also the matter of history. US markets have never bottomed before a recession hit, and on that basis another leg down in the market would seem probable.
Australia is still seen as skirting a recession next year, but growth would slow and unemployment, which dropped a notch yesterday from 3.5% to 3.4% in October, would likely increase in 2023. However, even if we dodge recession, local markets would follow offshore markets into a downward spiral, if that was to occur.
Of course, local events also influence the ASX, and during the week the agricultural sector provided some good examples. Pastoral and agribusiness group Elders (ELD) plunged 23% on Monday after voicing concerns summer and winter crops would be impacted by extreme rainfall. It also announced long serving CEO, Mark Allison, would depart the company next year.
The sell-off from $13.25 to $10.20 on the Monday attracted bargain hunters, and after some positive mid-week momentum had a close yesterday of $10.40.
On Wednesday, Graincorp (GNC) also suffered a sell-off after also mentioning recent rainfall was delaying harvesting, and that's despite announcing a 174% increase in net profit to $380 million and a final dividend of 30c a share, which included a 16c special dividend. It closed yesterday at $7.83 and remains down 5.55% over the past five days. 
Chemicals and fertiliser suppliers Nufarm (NUF) and Incitec Pivot (IPL) remained resilient to weather patterns, with five-day share price increases of 3.17% and 3.90% respectively.
In the materials space it was generally a strong week as commodity stocks responded to a lessening of COVID-19 restrictions in China and the prospect of its economy normalising. The S&P200 Resources Index was up 2.85% over the week and for the month 8.44%. However, that positivity has yet to flow through to commodity prices.

Source: nabtrade
China proved a two-edged sword for lithium stocks, as they got hit hard this week on reports of falling Chinese demand. As of yesterday, Pilbara Minerals (PLS) was down 10.75% over the week, while over the same period Core Lithium (CX0) was off 14.50% and Allkem (AKE) down 12.33%.
Turning to consumer stables and Woolworths (WOW) was up 2.11% yesterday to $34.43, consolidating three days of upward momentum. In the building space Boral (BLD) had a good week and closed yesterday up 5.34% over the week.        
In the data hack space, health insurer Medibank Private continued to show resilience, notching up a 2c rise over the week to $2.84. However, it has a way to go to get back to the $3.50 a share level it was at earlier this month before the data hack and subsequent ransom demand became global news.  
 Medibank Private share graph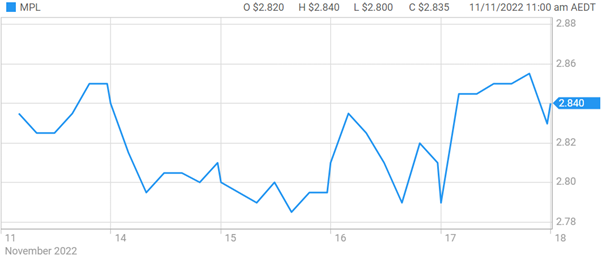 Source: nabtrade
With the Christmas period now looming it will be interesting to see just how much Australians dip into the savings accumulated during COVID-19 lockdowns. If Christmas turns into a consumer splurge, it could create a hangover in the new year, as households face the reality of higher inflation and potentially a deteriorating job market, and batten down the hatches.
As European markets opened last night it was a mixed bag, with German and Swiss markets higher (the latter quickly moved into the red) and UK and French markets lower. US stock futures were pointing to a positive start.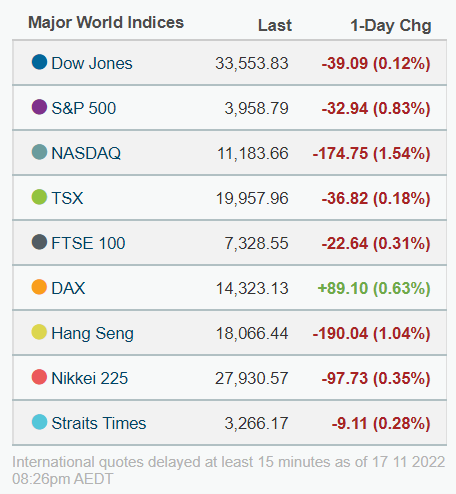 Source: nabtrade
Analysis as at 17/11/2022. This information has been provided by WealthHub Securities Limited ABN 83 089 718 249 AFSL No. 230704 (WealthHub Securities). WealthHub Securities is a Market Participant under the ASIC Market Integrity Rules and a wholly owned subsidiary of National Australia Bank Limited ABN 12 004 044 937 AFSL No. 230686 (NAB). Whilst all reasonable care has been taken by WealthHub Securities in reviewing this material, this content does not represent the view or opinions of WealthHub Securities. Any statements as to past performance do not represent future performance. Any advice contained in the Information has been prepared by WealthHub Securities without taking into account your objectives, financial situation or needs. Before acting on any such advice, we recommend that you consider whether it is appropriate for your circumstances.