The ASX200 started the week and ended trading on Thursday without a great deal of variance, after a strong mid-week performance that saw the index peak above 7000 points for a new 20-day high was all but wiped out yesterday. 
At yesterday 's close, the ASX200 was down 1.84% to 6857.90, compared to a close on Monday of 6860.60. It rose strongly on Tuesday, tracked around weekly highs on Wednesday before plunging again at Thursday's opening.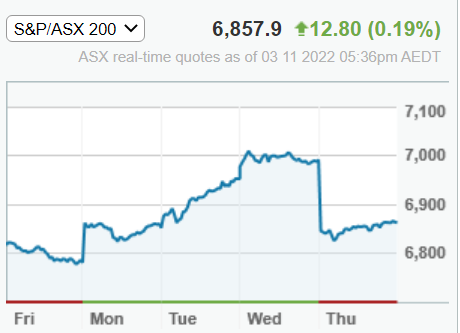 Source: nabtrade 
It was central bank intervention that squashed an effort by markets to rally.  
First, the Reserve Bank of Australia (RBA) on Tuesday upped the official interest rate another 0.25% to 2.85%, and RBA governor, Philp Lowe, said further rates are likely and upped forecasts that inflation would now peak around 8% by year end, before slowly settling back to a bit above 3% next year. 
Markets absorbed the RBA decision and inflationary outlook without much drama, but it was the US Federal Reserve (Fed) decision to raise interest rates by 0.75% to a target range of 3.75-4%, and accompanying commentary, that spooked markets. 
While the hike was expected, Fed chairman Jerome Powell threw cold water over suggestions the Fed may soon pause rate hikes, although he conceded he expected the board to increase debate around when to slow the pace of tightening in coming meetings. That did raise hopes of a smaller 0.5% increase when the Fed next meets in December. 
US markets delivered an ominous lead for local markets overnight on Wednesday, with the S&P500 down 2.5%.  
Breaking down the subsequent fall on the ASX, it was materials, discretionary spending and utilities that suffered the most. 
A controversial highlight on Thursday was a $1.7 billion takeover play for asset manager Perpetual from a consortium comprised of Regal Partners and private equity firm Barings Private Equity Asia, which was recently purchased by EQT. The non-binding indicative cash offer of $30 a share was rejected by the Perpetual board and given a lukewarm reception by markets, as Perpetual rose 7.14% yesterday to $28.82, but remained substantially below the proposed offer. 
It was also revealed trading in Perpetual shares is being investigated by the Australian Securities and Investment Commission following a 6% increase in Perpetuals share price in the final minutes of trading on Wednesday. 
Perpetual is in the process of acquiring fellow asset manager Pendal Group for $2.51 billion and said in a statement it would press on with the acquisition. However, fears the bid would be scuppered saw Pendal plunge 10.67% to $4.52. 
Other big losers yesterday included real estate and investment group Lendlease following a strategic market briefing, and Domino's Pizza Enterprises, which has been falling since a disappointing trading update during the week. 
 It was mid, small, and micro caps that led falls yesterday, although in many cases it was a lack of liquidity in the stocks that was the root cause of significant falls – a common issue in bearish markets. 
In the materials space the big players gave up some of the gains made during the week, with BHP down 3.21% to $37.98 and Rio Tinto off 2.23% to $90.56. Year to date BHP is down 10.38% and Rio 9.16%, which is unsurprising given the trend in commodity prices.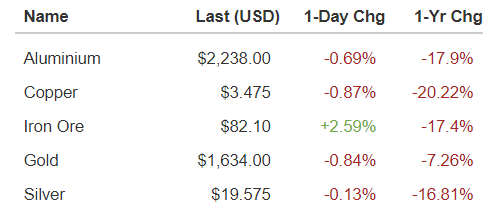 Source: nabtrade 
Overnight European share markets opened down, still spooked by what the Fed will do next to defeat inflation as American spending remains sticky and employment numbers defy predictions of a looming recession.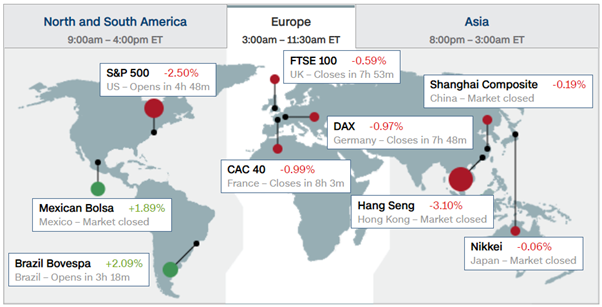 Source: CNN Business 
In pre-open US stock futures, indicators were pointing to a negative open for US markets. 
Analysis as at 04/11/2022. This information has been provided by WealthHub Securities Limited ABN 83 089 718 249 AFSL No. 230704 (WealthHub Securities). WealthHub Securities is a Market Participant under the ASIC Market Integrity Rules and a wholly owned subsidiary of National Australia Bank Limited ABN 12 004 044 937 AFSL No. 230686 (NAB). Whilst all reasonable care has been taken by WealthHub Securities in reviewing this material, this content does not represent the view or opinions of WealthHub Securities. Any statements as to past performance do not represent future performance. Any advice contained in the Information has been prepared by WealthHub Securities without taking into account your objectives, financial situation or needs. Before acting on any such advice, we recommend that you consider whether it is appropriate for your circumstances.