It was a turbulent week for markets after the US Federal Reserve raised interest rates by 0.5% at its May board meeting.
This outcome was expected by the market and economists and the market actually rose from comments by Fed Chair Powell that 0.75% rate rises were "not something that the committee is actively considering" which alleviated fears of an extremely aggressive short-term rate hike profile from the Fed. The market pushed out US interest rate hikes further over the next 1-2 years, with US interest rates now expected to reach close to 4% in a year which looks too elevated (we think rates will peak closer to 3%).
The initial post-Fed rally was more than reversed the next day, with US shares still 0.4% higher over the week but about 10% below their March peak (with the tech-heavy NASDAQ faring even worse, down by 22% since its early-2022 high). Australian shares are 3.4% lower over the week but have outperformed over the past few months compared to global counterparts because of our lower relative tech weighting and high commodities exposure.
Globally, Eurozone shares were 2.8% lower this week, Japanese shares were 0.2% weaker (although markets were mostly closed this week for the national holiday of Golden Week) and Chinese shares were down by 0.7% (although markets were also mostly closed because of the Labor Day public holiday).
In the short-term, the outlook for shares is still messy and there may be more downside as markets worry about a significant economic slowdown or "hard landing" and aggressive interest rate hikes but signs of US inflation peaking and solid economic fundamentals (strong labour market, high accumulated savings) should be positive for shares on a 6-12 month view.
US 10-year bond yields rose over 3% this week, with Australian 10-year yields also breaking out over 3%. The AUD rose to 0.71 USD and many commodity prices rose again. Oil prices are back around $110/barrel after the EU confirmed that it would move to ban Russian oil imports over the next 6 months and gas prices also moved higher.
US March quarter earnings season is nearly complete with 87% of companies having reported. Earnings growth is robust, with about 78.8% of results beating expectations. Annual earnings growth is running at 10.6% over the year. Solid earnings outcome explains the ability of companies to pass through higher prices to consumers.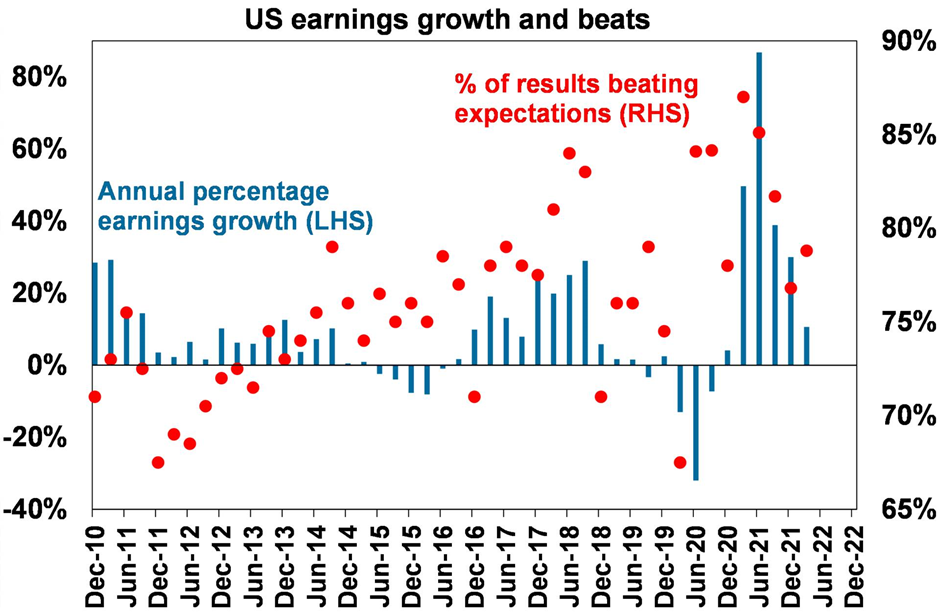 Source: Markit, AMP
Most global April manufacturing and services PMI's have now been released and show some slowing in global manufacturing momentum (see chart below), although activity is still positive and is moderating from very high levels.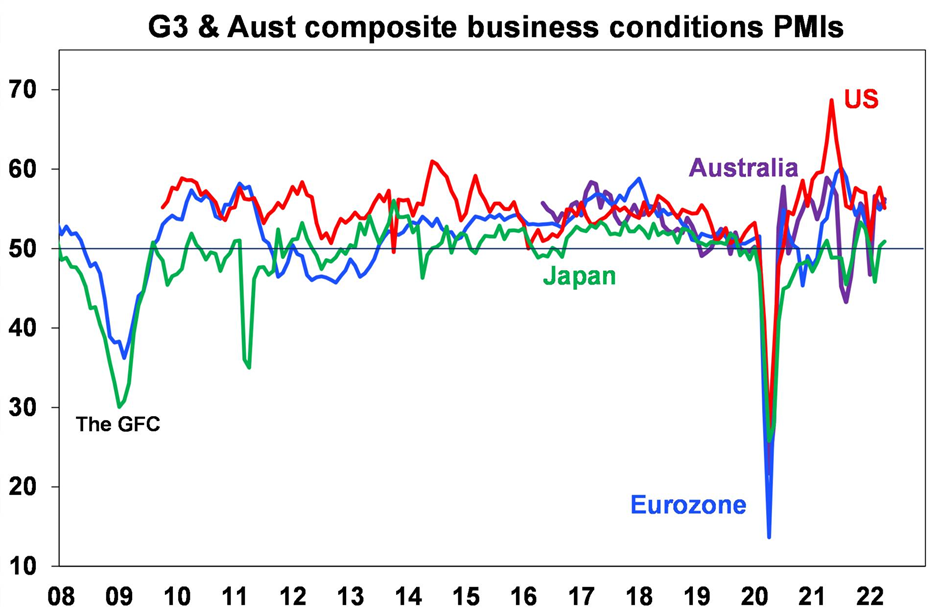 Source: Markit, AMP
Services activity also slowed a little in April, with a fall in the US and China. While China's Covid lockdowns are causing some disruption to global supply chains, the impact on economic activity is arguably more muted compared to the past, with PMI's in most countries not showing big falls despite the reliance on Chinese manufacturing. This could suggest that the world is becoming more immune to Chinese-related Covid disruptions. This would be good news for long-term supply issues and related inflation.
Supplier delivery times in the PMI data are also slowly improving despite the issues in China – although still have a long way to go to get back to "normal".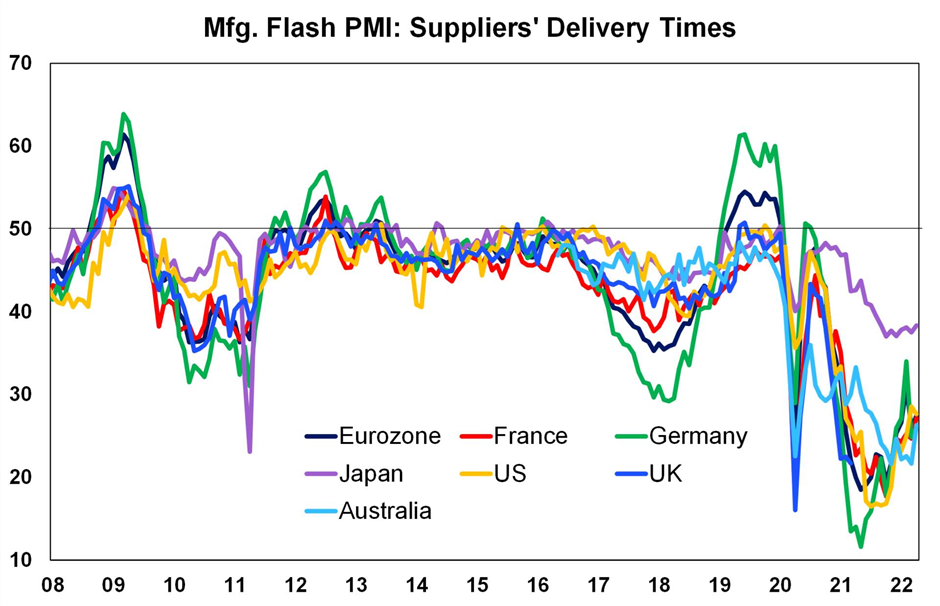 Source: Markit, AMP
Our own pipeline inflation pressure indicator continues to moderate (see the chart below), which includes things like commodity prices, shipping costs and delivery times.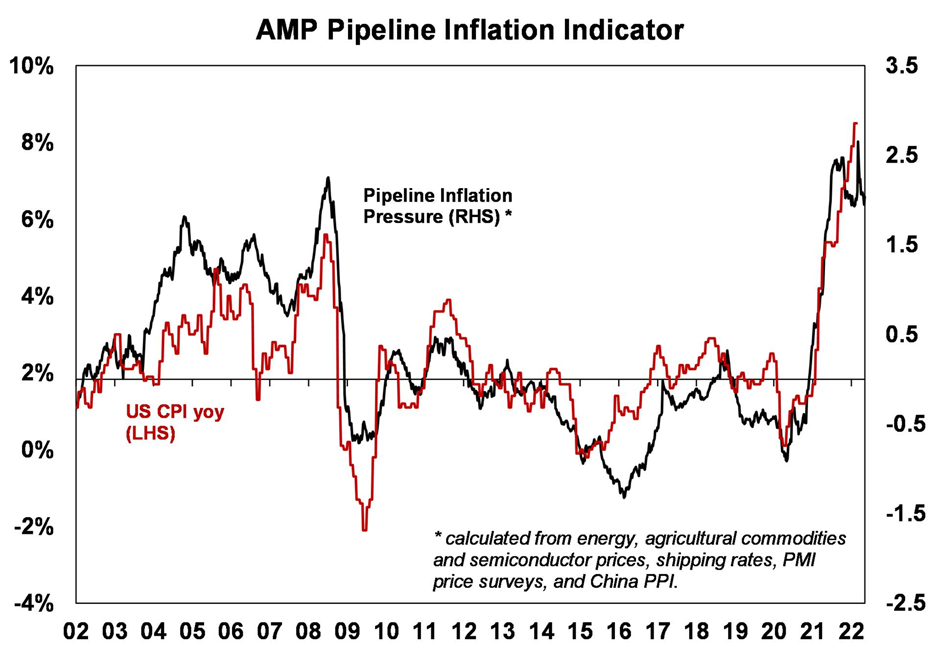 Source: Bloomberg, AMP
What to watch over the next week?
In the US, April non-farm payrolls (released on Friday) should show another strong employment report of 385K (which is below the March figure of 431K), with the unemployment rate declining further to 3.5% and average hourly earnings growth slowing to 5.5% over the year (from 5.6% March). April consumer price data (released on Wednesday) will show a smaller rise in headline prices (consensus looking for a 0.2% rise from 1.2% in the prior month) as commodity prices have cooled from March highs (although are still elevated). Core consumer prices are expected to rise by 0.4%, which is solid but below the peak increases in December/January. Producer price data also released next week is expected to rise by 0.5% in April. The University of Michigan consumer sentiment survey is expected to show another low reading, around its lowest level since late 2011.
Australian data includes the March quarter volume retail sales data which we expect will show a rise of 1.1%, making a small contribution to March quarter GDP growth. The April NAB business survey may show some weakening in business confidence and conditions because of uncertainty around rate hikes and global inflation concerns despite businesses reporting good outcomes in recent months. In contrast, consumer confidence has been weakening and there will be an update on consumer sentiment in Wednesday's release.
Around the rest of the world, it is a quiet week. Europe data includes the May ZEW survey of financial market participants' outlook, which fell to its lowest level since the start of the pandemic in 2020. March industrial production data is also released.
In the UK, March quarter preliminary GDP is released and is likely to show some slowing from the 1.3% pace last quarter.
In Canada, the April unemployment rate should fall slightly to 5.2% from 5.3% last month with another decent jobs print.
And in China, the April trade surplus is expected to widen to around $48.4bn US dollars. Export growth is expected to lift over the year but imports are likely to have a small fall because of weaker domestic demand related to lockdowns. April consumer and producer price data is expected to show a lift in consumer prices to 1.9% over the year (from 1.5% last month) and 7.5% for producers (lower than the 8.3% last month) but this is well below current price growth in global counterparts.
All prices and analysis at 09 May 2022. This information was produced by Switzer Financial Group Pty Ltd (ABN 24 112 294 649), which is an Australian Financial Services Licensee (Licence No. 286 531This material is intended to provide general advice only. It has been prepared without having regard to or taking into account any particular investor's objectives, financial situation and/or needs. All investors should therefore consider the appropriateness of the advice, in light of their own objectives, financial situation and/or needs, before acting on the advice. This article does not reflect the views of WealthHub Securities Limited.