Ho! Ho! Ho!
It is the time of year, in Christmas past, I used to get so excited about presents under the tree and what would be in my stocking. My mum and dad would tend to keep me guessing. Was Father Christmas coming this year? Had I been naughty or nice? Had I written a list, it was only later that I found out that Bruce had to check that list twice. Maybe Mariah had to check too! She did write it after all, I prefer Bruce's version. These days it seems that Christmas comes early, at least the run up and the question is whether Santa will be coming to town? The Santa rally. You have to believe after all. You need that list.
In the same vein, with the stock market, you need a list. A list of what you want for Xmas. A shopping list of stocks perhaps that you want to add to your portfolio.
So here are three stocks to add to your Xmas stocking.
First up CSL.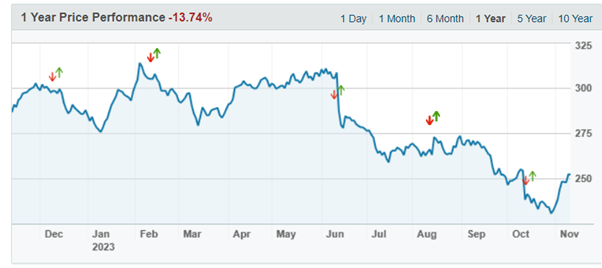 Source: nabtrade
It's a market favourite and has been for years. Every adviser and analyst recommends this one. I watched one well-known talking head talk about how he understood CSL and so was happy to recommend it. You know what, he doesn't know CSL. It's not an easy story. It's easy to boil it down to 'pay people to donate blood', and then spin it into high-margin effective drug treatments for various illnesses. It sounds so easy. But it is really complicated. 
I am not sure that the well-known talking head is across all the drugs, the vaccines, the science and now of course, the implications for Vifor, which was a company-transforming acquisition. Just not for the good. 
So how much do you know about these my friend:
Factor X Deficiency. Factor X11 Deficiency. Fibrinogen deficiency. Hemophilia A and B or Von Willebrand Disease. Perhaps these are more familiar, Chronic Inflammatory Demyelinating Polyneuropathy (CIDP) or Guillain-Barre Syndrome?
How much demand is there for these drugs?
Or some of the Vifor treatments. Ferinject or Venifer or maybe Maltofer? 
Maybe Rayaldee Prolonged Release formulation of Calcifediol?
So yeah, we all know CSL so well!
Groupthink wisdom is contagious. Everyone is an expert on CSL. Flu jabs and plasma? But it is not that simple. 
My point is we simplify this company and to some extent brokers and some talking heads extrapolate the past into how great they will be in the future. It is not always so, and the world of pharma changes quickly. The Vifor acquisition did change things. Increased the risk.
The stock has fallen hard. Really hard, considering every man and his dog is a buyer. Every broker a fan. No short position either. Who would dare short an icon after all? Less than 0.4% shorted. It is Un -Australian to short CSL. So, who has been selling? There must be someone!
Part of the negative narrative has revolved around Ozempic and its sister drugs for diabetes and weight loss (GLP-1s). This seems overdone. The other issue has been a downgrade. The unthinkable from the company. Like shooting a Reindeer. Rudolf?
Here are some potential catalysts for a return to 'greatness'.
CSL is talking growth in hemophilia B, speciality products, influenza, iron deficiency products.
Record volumes expected in plasma collection in FY24. Better optimised fee structure.
A slowing US economy may help. With plasma collections at reduced fees.
PE back to 24. Not cheap but a long way down from historical highs.
If you are looking for an out-of-favour Christmas stock, this is the one to have in your stocking. 
The next stock to think about for your list, is a software logistics business Wisetech (WTC)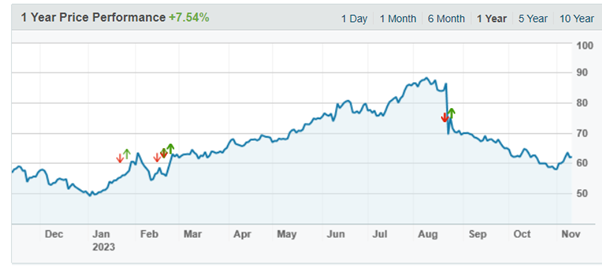 Source: nabtrade
Another stock that disappointed. Pregnant with its AGM and perhaps a positive update. Perhaps. 
The last update was pretty disappointing on a number of fronts. Margins subdued, cost out program was a little ephemeral. Guidance was weak and the large acquisitions (Blume, Envase, and Shipama) have diluted margins. 
Global roll-out continues.
Guidance for EBITDA margins to return to 50%+ in FY26 may be conservative.
The question is, are market expectations too high. Much like my own every Xmas morning! I did get that bike eventually. Caught my dad putting it under the tree.
WTC has suffered but the AGM will clear the air a little. It could be a catalyst.
Last on my Xmas list is Mineral Resources (MIN)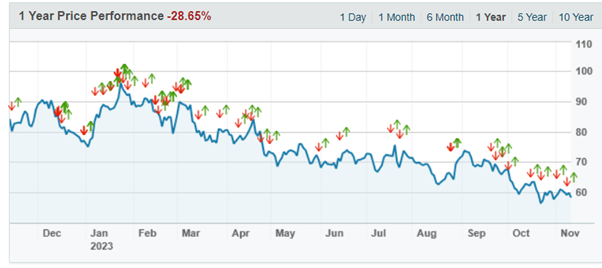 Source: nabtrade
A two-pronged story. Iron ore and lithium. Everyone hates lithium stocks at the moment. At least the producers, the 'dreamer' stocks with a rock chip sample and some money to go drilling, well that is another story. Swarms of pegmatites, tick. Off to the Boxing Day races. Plenty of punters are willing to suspend disbelief and scepticism and pile in. Plenty of billionaires are doing that too.
MIN has revealed soft results recently.  Weaker than expected shipment volumes at Wodgina, down 30% QoQ due to unplanned maintenance issues. Might not be a bad thing given where prices are currently. Port constraints hurt Iron ore volumes.
- Strong spodumene production at Mt Marion but soft sales. 
- Updates recently on the Wodgina ramp-up. Also, Onslow Iron anear term catalyst.
- Lithium prices are clearly a big driver of both sentiment and share price. 
- Quality management. Fingers in lots of pies.
- PE of 12 with a 3.3% fully franked yield.
It may take until next Xmas - Remember a dog is for life not just for Xmas. And these have been dogs in 2023.
A free trial of the Marcus Today newsletter for nabtrade clients is available here.
All prices and analysis at 10 November 2023.  This information has been prepared by Marcus Today Pty Limited.  Marcus Today Pty Ltd ABN 57 110 971 689 is a Corporate Authorised Representative (no. 310093) of AdviceNet Pty Ltd ABN 35 122 720 512 (AFSL 308200).
The content is distributed by WealthHub Securities Limited (WSL) (ABN 83 089 718 249)(AFSL No. 230704). WSL is a Market Participant under the ASIC Market Integrity Rules and a wholly owned subsidiary of National Australia Bank Limited (ABN 12 004 044 937)(AFSL No. 230686) (NAB). NAB doesn't guarantee its subsidiaries' obligations or performance, or the products or services its subsidiaries offer.  This material is intended to provide general advice only. It has been prepared without having regard to or taking into account any particular investor's objectives, financial situation and/or needs. All investors should therefore consider the appropriateness of the advice, in light of their own objectives, financial situation and/or needs, before acting on the advice.  Past performance is not a reliable indicator of future performance.  Any comments, suggestions or views presented do not reflect the views of WSL and/or NAB.  Subject to any terms implied by law and which cannot be excluded, neither WSL nor NAB shall be liable for any errors, omissions, defects or misrepresentations in the information or general advice including any third party sourced data (including by reasons of negligence, negligent misstatement or otherwise) or for any loss or damage (whether direct or indirect) suffered by persons who use or rely on the general advice or information. If any law prohibits the exclusion of such liability, WSL and NAB limit its liability to the re-supply of the information, provided that such limitation is permitted by law and is fair and reasonable. For more information, please click here.