Christine St Anne | Morningstar
A subdued China, an uncertain commodities outlook and ESG concerns continue to challenge miners. However, some opportunities are still available for investors. By pinpointing several charts in the latest industry pulse on the mining sector, we uncover a number of trends that position a number of stocks for a solid outlook.
ESG and macroeconomic concerns hit miners
Thermal coal miner Whitehaven (WHC) and gold miner Newmont (NEM) are among the stock picks in the latest industry pulse report.
According to Morningstar analyst and report author Jon Mills, compared with other miners, gold and thermal coal firms are cheap on macroeconomic and ESG concerns.
Chart 1: Gold and Thermal Coal Miners Undervalued

Thermal coal prices to be supported by supply constraints
According to Mills, Whitehaven is well-placed to benefit from continued strong demand for high-quality thermal coal over at least the next decade as highlighted in the chart below.
"Demand for high-quality coal, such as from Whitehaven, is likely to remain robust in Southeast Asia in particular. It helps meet energy needs while reducing emissions relative to using lower-quality coals, such as those from the largest volume exporter, Indonesia."
Chart 2: Thermal coal prices likely to remain elevated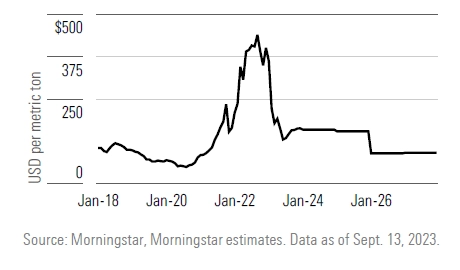 Iron ore demand robust despite a subdued China
Moreover, iron ore imports remain strong despite China's economic challenges. This will bode well for Whitehaven as China accounts for about 70% of seaborne iron ore demand. "Imports remain strong, as reflected in the surprisingly elevated iron ore price and miner profits," says Mills.
Chart 3: China iron ore imports still strong Demand for gold recovering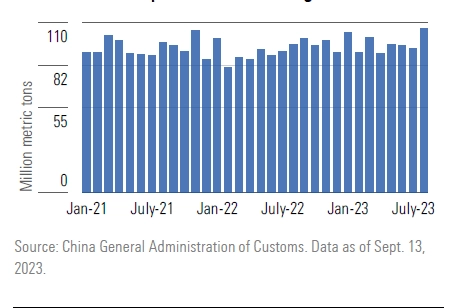 Demand for gold recovering
Chart 4: Demand recovering from COVID-19 lows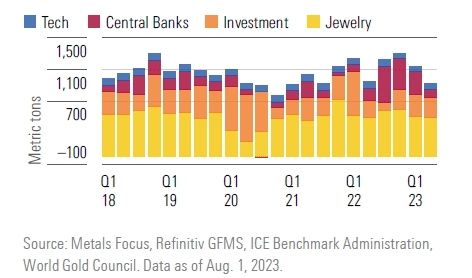 Gold miner Newmont is also well positioned as demand for gold recovers from Covid-19 lows. "Gold production has recovered from the Covid-19-induced hiccups in 2020 when the output from many mines was either restrained or temporarily curtailed," Mills says. However, we forecast more modest increases in mine supply across our coverage."
First published on the Firstlinks Newsletter. A free subscription for nabtrade clients is available here.
Christine St Anne is communications manager at Morningstar Australia. All prices and analysis at 20 September 2023.  This document was originally published in Morningstar on 23 September 2023. This information has been prepared by Morningstar Australasia (AFSL 240892). 
The content is distributed by WealthHub Securities Limited (WSL) (ABN 83 089 718 249)(AFSL No. 230704). WSL is a Market Participant under the ASIC Market Integrity Rules and a wholly owned subsidiary of National Australia Bank Limited (ABN 12 004 044 937)(AFSL No. 230686) (NAB). NAB doesn't guarantee its subsidiaries' obligations or performance, or the products or services its subsidiaries offer.  This material is intended to provide general advice only. It has been prepared without having regard to or taking into account any particular investor's objectives, financial situation and/or needs. All investors should therefore consider the appropriateness of the advice, in light of their own objectives, financial situation and/or needs, before acting on the advice.  Past performance is not a reliable indicator of future performance.  Any comments, suggestions or views presented do not reflect the views of WSL and/or NAB.  Subject to any terms implied by law and which cannot be excluded, neither WSL nor NAB shall be liable for any errors, omissions, defects or misrepresentations in the information or general advice including any third party sourced data (including by reasons of negligence, negligent misstatement or otherwise) or for any loss or damage (whether direct or indirect) suffered by persons who use or rely on the general advice or information. If any law prohibits the exclusion of such liability, WSL and NAB limit its liability to the re-supply of the information, provided that such limitation is permitted by law and is fair and reasonable. For more information, please click here.