Michael Dowd | Man Numeric 
In the world of finance, few phrases are potentially as wealth destructive as 'this time it's different'. Yet, during a period when the mere mention of artificial intelligence (AI) has sent valuations soaring, many are wondering if this time it really is different.
AI is undoubtedly a game-changer, impacting virtually every industry. History is filled with such transformative moments – and every era has its hot stocks. Before AI, it was the Internet. Prior to that, the world was bracing for Japan's economic dominance – until it wasn't. Conglomerates and oil companies, the "Nifty Fifty" of the 1970s have all had their moment in the sun.
So, is the euphoria around AI justified? Or should investors be bracing for an inevitable downfall? There are reasons to believe that this time might indeed be different. In the new AI economy, scale matters. Companies such as Nvidia, which is providing the proverbial picks and shovels for this new gold rush and which recently announced its sales would jump 170% this quarter, underscore this trend.
What history has to say
Yet, questions remain: is there room for the next college roommates with a disruptive big idea? Is the next Microsoft waiting in the wings? To gain perspective on these questions, we dived deep into the history of the US stock market, looking at the top 100 stocks (by market cap weight) at the end of every decade from the 1960s through to the 2010s and examining where the leaders of each decade were 10 years on (see Figure 1). While the end of a decade may seem like an arbitrary cutoff point, we chose to separate time accordingly.
Figure 1. Leaders from Each Era Had a Smaller Market Weight a Decade Later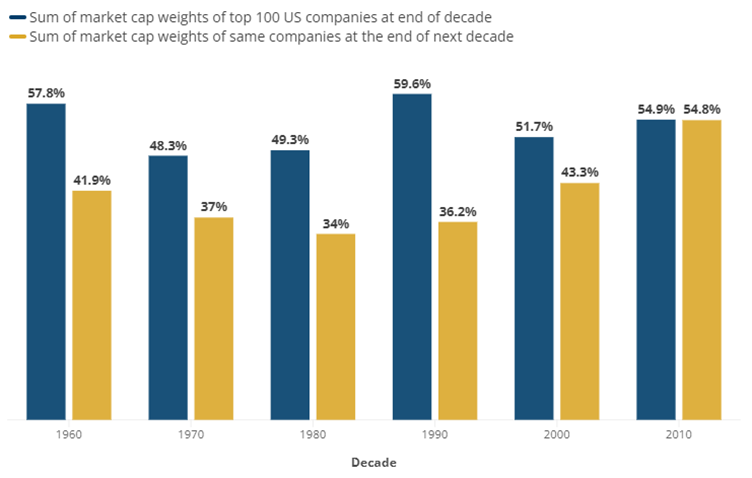 Source: Man Numeric. Data covers period from 30 September 1962 to 31 December 2022. For 2010, 'end of next decade' covers period from 1 January 2010 through to 31 December 2022.
What we found most striking is just how strong gravity has typically been. Reaching the top 100 in any decade has been no guarantee of success in the next. In each of the five full decades we studied, the weight of the top 100 stocks at the end of one decade was materially lower in the next. The decade following the dot-com craze of the 1990s (the 2000s) witnessed the lowest survival rate in our study with only 73% of stocks remaining a decade later (see Figure 2).
Figure 2. Survival Rate of Leaders a Decade Later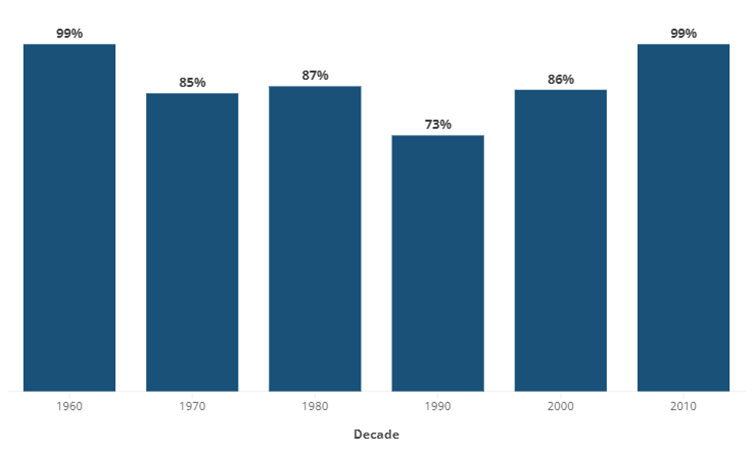 Source: Man Numeric. Data covers period from 30 September 1962 to 31 December 2022. For 2010, 'a decade later' covers period from 1 January 2010 through to 31 December 2022.
Over a full market cycle, new leaders typically emerge, with some exceptions, notably being in the 2010s, as recent market leaders have become somewhat entrenched. With that said, while it's true that Microsoft did in fact largely become the "General Motors of the Internet" and is still going strong, it has largely proved to be the exception, rather than the rule, at the individual stock level.
Current breed has proven resilient
While acknowledging that the current decade is still young, the leaders from the end of the last decade (2019) have also shown remarkable resilience thus far with the sum of the top 100 weights remaining steady at about 54%.
Returning to our initial question then: is this time different? Perhaps. But history tells us that even in the throes of excitement over new technology and its potential, asset prices may creep ever higher in the short term, but often disappoint in the longer term in the face of elevated expectations. The rise of AI is a thrilling new chapter in the ongoing saga of market disruption, but as investors navigate this new terrain, they would do well to remember the tales of past market heroes and their eventual fates.
First published on the Firstlinks Newsletter. A free subscription for nabtrade clients is available here.
Michael Dowd is Head of Investment Risk, Man Numeric. Man Group is a specialist investment manager partner of GSFM Funds Management, a sponsor of Firstlinks. GSFM represents Man AHL and Man GLG in Australia.Analysis as at 14 September 2023. This information has been provided by Firstlinks, a publication from Morningstar Australasia (ABN: 95 090 665 544, AFSL 240892), for WealthHub Securities Ltd ABN 83 089 718 249 AFSL No. 230704 (WealthHub Securities, we), a Market Participant under the ASIC Market Integrity Rules and a wholly owned subsidiary of National Australia Bank Limited ABN 12 004 044 937 AFSL 230686 (NAB). Whilst all reasonable care has been taken by WealthHub Securities in reviewing this material, this content does not represent the view or opinions of WealthHub Securities. Any statements as to past performance do not represent future performance. Any advice contained in the Information has been prepared by WealthHub Securities without taking into account your objectives, financial situation or needs. Before acting on any such advice, we recommend that you consider whether it is appropriate for your circumstances. NAB doesn't guarantee the obligations or performance of its subsidiaries or the products or services its subsidiaries offer.