Joshua Peach, Data Journalist | Morningstar Australia
Shares in network solutions provider Megaport (MP1) have surged this year but Morningstar analysis suggests the market is still "too bearish" on the tech stock.
Megaport, which offers network services to allow clients to connect between data centres and cloud environments, saw its shares jump more than 30% following an upgrade in the company's fourth quarter expectations.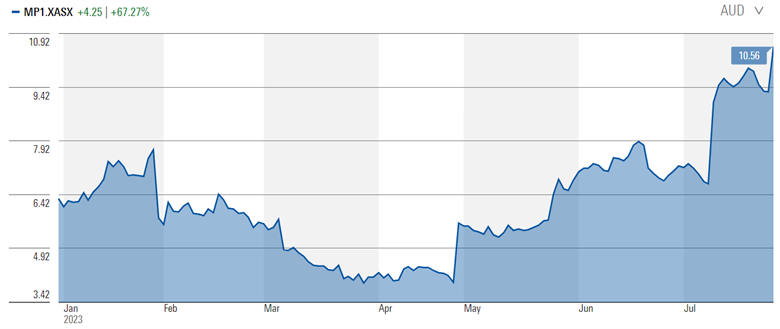 Source: Firstlinks
In what is now expected to be its first full year of earnings before interest, taxes, depreciation, and amortization (EBITDA) profitability, Megaport now forecasts normalized EBITDA of between $19 million and $21 million in fiscal 2023, which represents a mid-point increase of around $2.5 million.
The company also expects reported EBITDA of between $24 million and $26 million in fiscal 2023, while fiscal 2024 reported EBITDA is on track to exceed the previously estimated range of $41 million to $46 million.
The resulting share price jump mirrors a previous earnings upgrade back in May, when shares in the company popped a further 40% after Megaport flagged that it's full-year 2023 EBITDA was forecast to come in at roughly double the 'market consensus'.
The short position on the stock, which peaked at more than 12% of issued shares back in October of last year, had been attributed, in part, to concerns that the company would need to raise capital ahead of reaching profitability.
But with Megaport's management now saying the company does not foresee any need to raise additional capital for the normal operation of its business, those market fears have begun to abate.
Megaport's share price rally follows a strong year-to-date performance from the ASX's tech sector, with fellow larger-cap ASX tech player WiseTech Global (WTC) posting similar returns since the start of January.
Morningstar analyst Matthew Dolgin says the market reaction to the dual upgrades has led to the stock more than doubling in that span, but notes that there is still more distance to make up before the company's share price aligns with Morningstar's assessed fair value.
"We maintain that the market had become far too bearish on Megaport—which never faltered in moving rapidly toward profitability while keeping sales growth high—and we believe the stock is still undervalued," he says.
"Megaport expects its first year of positive free cash flow in fiscal 2024, and it canceled its $25 million debt facility, supporting management's previous statement that it will not need to raise cash again unless new, inorganic opportunities arise."
Looking forward, Morningstar now expects to raise its fiscal 2024 EBITDA estimates for the company when the full guidance drops next month, but Dolgin notes that the longer-term outlook for the company remains largely the same.
"Megaport is simply continuing on the trajectory that we've expected by reaching positive free cash flow in fiscal 2024 and staying on a trend of rapid sales and profit growth," he says.
"We are therefore not currently adjusting our fair value estimate, which is based on the long-term projections that we expect we'll maintain following the fiscal 2023 report."
Megaport is scheduled to report its fourth quarter results on August 22. Shares in the company last traded at around a 21% discount to Morningstar's assessed fair value of $13.00 apiece.
First published on the Firstlinks Newsletter. A free subscription for nabtrade clients is available here.
Joshua Peach is a Data Journalist at Morningstar Australia. Analysis as 2 August 2023. This information has been provided by Firstlinks, a publication of Morningstar Australasia (ABN: 95 090 665 544, AFSL 240892), for WealthHub Securities Ltd ABN 83 089 718 249 AFSL No. 230704 (WealthHub Securities, we), a Market Participant under the ASIC Market Integrity Rules and a wholly owned subsidiary of National Australia Bank Limited ABN 12 004 044 937 AFSL 230686 (NAB). Whilst all reasonable care has been taken by WealthHub Securities in reviewing this material, this content does not represent the view or opinions of WealthHub Securities. Any statements as to past performance do not represent future performance. Any advice contained in the Information has been prepared by WealthHub Securities without taking into account your objectives, financial situation or needs. Before acting on any such advice, we recommend that you consider whether it is appropriate for your circumstances.