Henry Jennings | Marcus Today
What will the upcoming year bring us? Through all the gnashing of teeth and worries over a looming recession or the 'mortgage bomb', the ASX 200 had a pretty good year, up 9.7%. Admittedly some of that was a massive bounce after a shocking June last year, but 9.7% is not to be sneezed at. Admittedly from the end of May to this EOFY, the index is pretty much unchanged. Timing. June was horrible.
Stock picking was crucial. These are some of the Top ASX 200 stock winners last year. The Winner's Enclosure.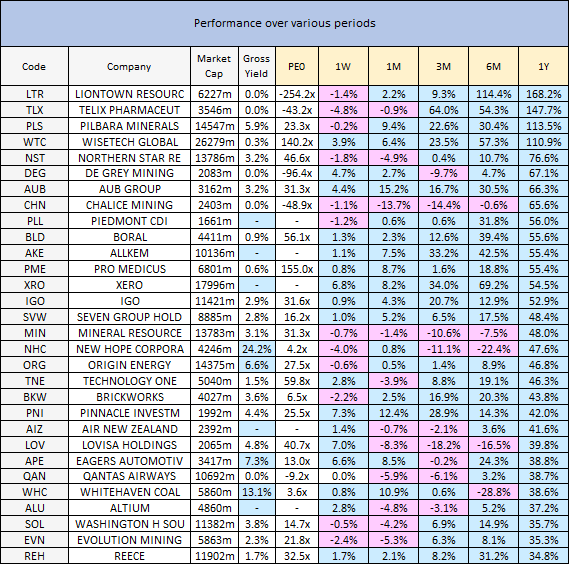 Source: Marcus Today, 2023 
Pretty impressive gains for some of these stocks. And lots of them too. Equally, there have been some terrible performers.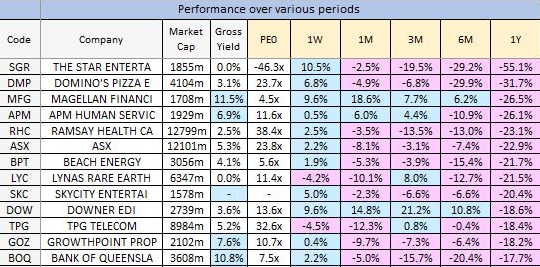 Source: Marcus Today, 2023
Star Entertainment (SGR), Domino's Pizza (DMP), and Magellan Financial (MFG) are some of the high-profile losers. Interestingly Ramsay Health Care (RHC) is another casualty despite its seemingly defensive qualities. Same with DMP - isn't fast food supposed to be relatively recession-proof?
So, what is going to be the winning strategy in 2023/24? More of the same? Technology and resources? That seems to be a theme in the winners. Of course, trying to find 50% plus winners is not only tricky but it also brings risk. Lots of it. To get that sort of Alpha (performance) from your portfolio, you must embrace risk.
Some investors though are not looking for that adrenaline rush: the dinner party bragging rights of how astute you have been at picking the winners. Most investors would be relatively happy with the 9.7% on the index. Fund managers, who are not typically paid to take risk, would themselves be very happy with that result. They are not paid to invest in the flyers or 50-1 Roughies; they are paid to beat the market. They are paid to build wealth without keeping you awake at night. If your fund manager beats the market by 1 or 2% you can be assured that they are not taking huge risks. If they nail a 50% plus return, you may need to ask the question 'how did they do that?'. Flying high one year and collapsing in a heap the following year is not great business. Maybe for them, as the fund manager gets poached on a huge salary, but not great for you. Consistent performance wins the day. Having a consistent jockey is also paramount. Good to check who is riding the horse. Not a rollercoaster ride. Not riding in the Grand National.  If you want that randomness, you might as well buy crypto or ARK Innovation. YTD the fund is up 40%. 3-year performance is down 13.5%. Cathie Wood knocked the lights out in 2017 and 2020. But then (in)famously sold out of Nvidia before they uncovered the Holy Grail of AI.
The theory that where the US market goes in the first half is a guide to the second half performance is being used as an excuse for continued strength. The ASX 200 has been less ambitious in its move this half, up only 2.4%. Sideways at best. That is where stock picking comes in.
Three stocks for the next six months
In any stock picks, you should probably have some exposure to electrification. EVs are now becoming cheaper than petrol or diesel equivalents in some countries because of the subsidies. China is the world's biggest EV market, but the US through the Inflation Reduction Act (IRA) and the Europeans through the massive investment in car manufacturing will really start to kick. Supply is harder to get online. Cost overruns and environmental hold ups are slowing down the supply side. Big world-class projects take time to get into production.  We have seen some solid gains in Leo Lithium (LLL) with its huge Goulamina project in Mali. Latin Resources (LRS) is also building a world-class deposit in Brazil next door to Sigma Lithium (listed in Canada). Both look promising on a number of metrics and the share prices should continue to push higher. Here in Australia, Azure Minerals (AZS) has been rampaging higher in recent weeks as the size and scale of Andover becomes clearer.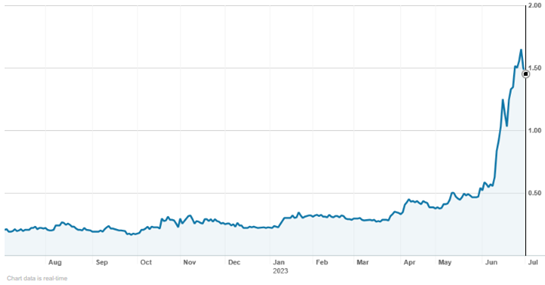 Source: nabtrade, 2023
The last drill results have cemented Mark Creasy's legendary reputation on the exploration front. He owns 40% of the Andover project which is a sub-editors dream for headlines. Making money 'Andover' fist is an easy one. Certainly one to watch for the new year. People and projects. In resources, it is about the geologist and the team behind them. Grade too.
Technology too has been a huge winner. Anything vaguely connected with AI or on a global scale has done well. Xero (XRO) and Wisetech (WTC) are the obvious go-to stocks for tech investors. Our tech sector is so small that you run out of decent companies. Altium (ALU) could be one to keep in mind for the new year. Bear in mind that ALU rejected an approach from Autodesk at $38.50 a share for a valuation of $5.05bn. ALU designs software and provides users with engineering and manufacturing platforms. We have heard very little from the company since its results in February. This is the closest to a homegrown ASML. More complicated automotive electronics helping ALU. More complex printed circuit boards (PCB). A lack of fresh news flow, and guidance, may be holding this one back. Possible corporate appeal and growth should ensure this is one to watch.
Finally, a large cap which has suffered recently: CSL. A true Australian success story.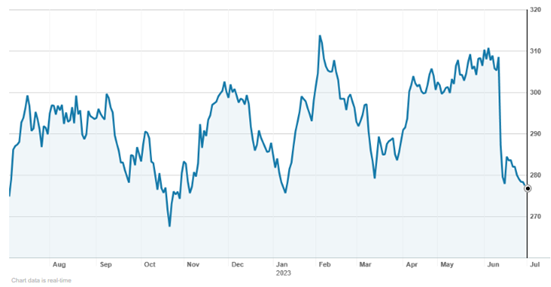 Source: nabtrade, 2023
The recent update has seen the stock drop. Downgrades are not something we are used to with CSL. Never happens, but this time it did. Part of the issue is the strength of the US economy. This gives plasma donors (sellers) less incentive to pop into a CSL collection centre, and donate. Margins are being squeezed a little. It is also seeing staffing costs rise, again a function of the robust US economy. So, what if the US does head into a recession and we see unemployment rise to 4.5% and mortgage payments remain elevated? Will that entice more people to 'give' blood? CSL has also recently taken control of Vifor, which diversifies its income stream, plus, it will benefit from the AI revolution. Medical science is supposedly one area to do well from the power of AI. Given its recent falls and its slight US recession hedge, CSL could well find its way back into the winner's enclosure next year. Quality management and company selling at an attractive price.
So, three stocks, AZS is possibly the 20-1 outsider with ALU coming in at 10-1 with CSL more a 5-1 shot for the winner's enclosure. 
Good luck and enjoy the ride. Always important to nail the dismount too! Timing is everything.
A free trial of the Marcus Today newsletter for nabtrade clients is available here.
Analysis as at 04 July 2023. This information has been provided by Marcus Today (AFSL is 473383), for WealthHub Securities Ltd ABN 83 089 718 249 AFSL No. 230704 (WealthHub Securities, we), a Market Participant under the ASIC Market Integrity Rules and a wholly owned subsidiary of National Australia Bank Limited ABN 12 004 044 937 AFSL 230686 (NAB). Whilst all reasonable care has been taken by WealthHub Securities in reviewing this material, this content does not represent the view or opinions of WealthHub Securities. Any statements as to past performance do not represent future performance. Any advice contained in the Information has been prepared by WealthHub Securities without taking into account your objectives, financial situation or needs. Before acting on any such advice, we recommend that you consider whether it is appropriate for your circumstances.