Francyne Mu | Franklin Global Growth Fund
The history of societal progress is often told as the history of technological change and at a large enough scale, this is true. For example, the invention of the steam engine and the computer have allowed people to do things in ways that are unquestionably more efficient. But a narrow focus on these technological leaps often overlooks the more subtle but important progress of organisational, industrial design, and the move towards automation.
Our experience has shown us that these seemingly small tweaks can be game changers. For instance, when Henry Ford modified the assembly line in car manufacturing, this increased productivity and reduced costs, making the Model T accessible to every household and launching the age of the automobile.
As managers of an investment strategy with a mandate to purchase companies driven by secular growth trends, we believe it's worth reflecting on how these more subtle changes can act as a driving force at both the industry and company level to create new sustainable competitive advantages and profit pools. In this article, we'll explore some of the companies that are innovating to enable better ways of doing business. But first, let's look at one of the pioneers of process improvement and how his insights transformed one of our oldest trades.
Redefining efficiency: Frank Gilbreth's bricklaying innovation
The achievements of one of industrial designs pioneers Frank Gilbreth illustrates the gains that can be made by this subtle mode of progress. Gilbreth started his career as a bricklayer's assistant at the age of 17. Possessing a natural curiosity, he soon became determined to find out what the "one best way" might be for executing any given task on the jobsite.
Through keen observation and measurement, Gilbreth determined that bricklaying could be made vastly more efficient simply by keeping the bricks both within a short reach of the workers and at waist height. To this end, he developed and patented a 'Vertical Scaffold' apparatus which was estimated to at least double the productivity of each bricklayer. It almost goes without saying that this innovation provided Gilbreth and his construction firm a powerful competitive advantage.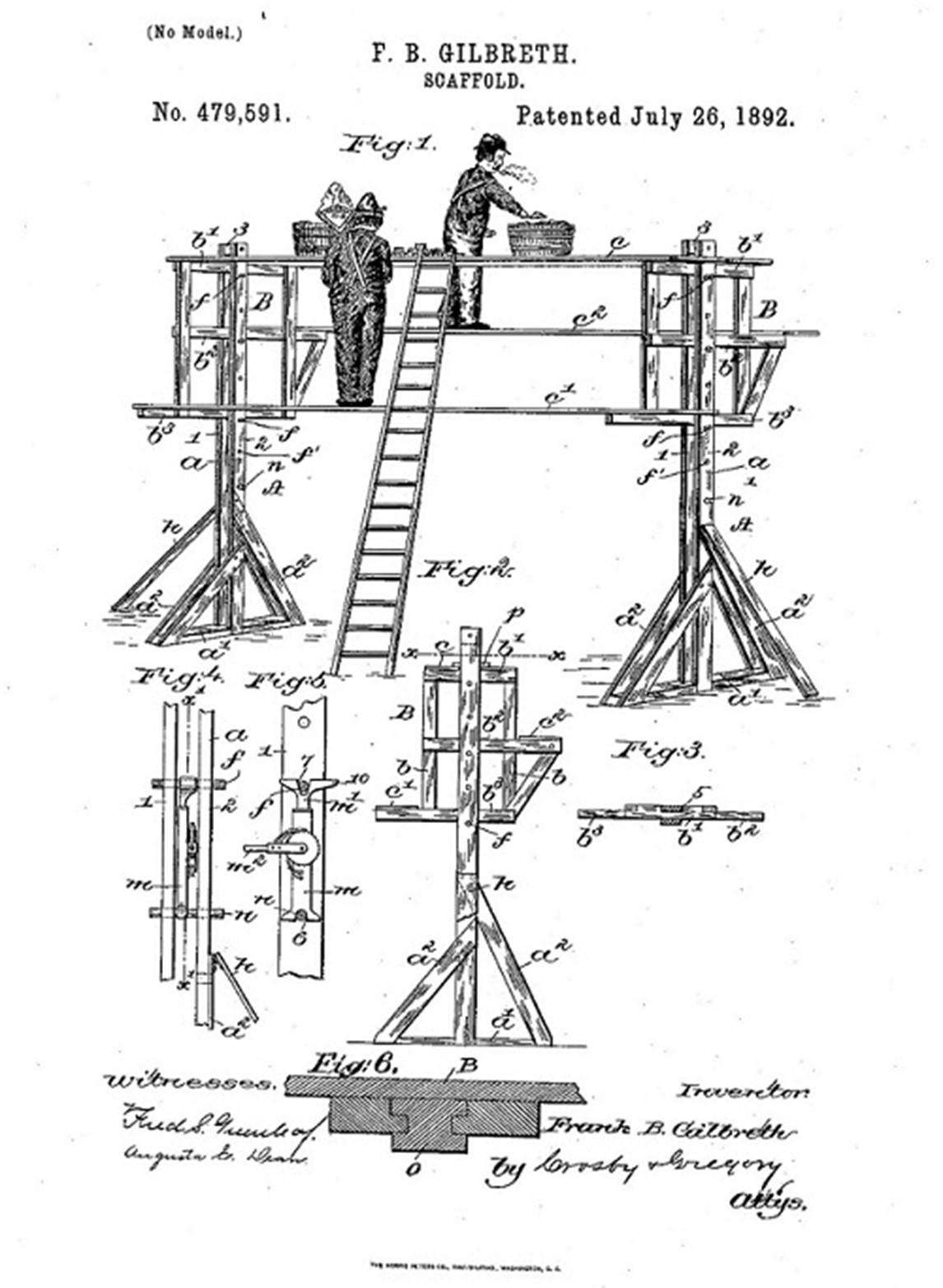 Source: USPTO, Frank Gilbreth Patent Application, Technical Drawing
That one of history's oldest crafts could achieve a two-to-three-fold improvement in efficiency without the invention of any substantially new technology speaks to the power that intelligent organisational efficiency can have on society.
With this in mind, let's look at a few companies held by the Franklin Global Growth Fund that are continuing Gilbreth's innovations by harnessing the power of both technology and systems engineering to create value for both themselves and their partners.
Rockwell Automation – Mining for efficiency
At their heart, Gilbreth's innovations in the field of bricklaying were a function of keen observation and an ability to measure what mattered. Today, technology like the internet of things (IoT) and machine vision is empowering companies to digitise their workflow process and enable similar levels of productivity insights. Rockwell Automation is at the leading edge of building such IoT systems, one of which is their FactoryTalk InnovationSuite (FactoryTalk).
FactoryTalk is a software platform that combines advanced analytics, machine learning, and industrial IoT (IIoT) capabilities to improve organisational design in manufacturing settings. By integrating data from various sources within the factory, this platform provides real-time insights and predictive analytics that enable better decision-making, improved efficiency, and reduced downtime.
One example of how this technology is driving organisational efficiency is its deployment with Helsinki-based Metso, a leader in sustainable minerals processing technologies. Metso offers its customers an IIoT-driven solution called Metso Metrics for Mining, which leverages Rockwell Automation's FactoryTalk platform for predictive maintenance and asset optimisation, aiming to enhance productivity and prevent equipment failure and downtime.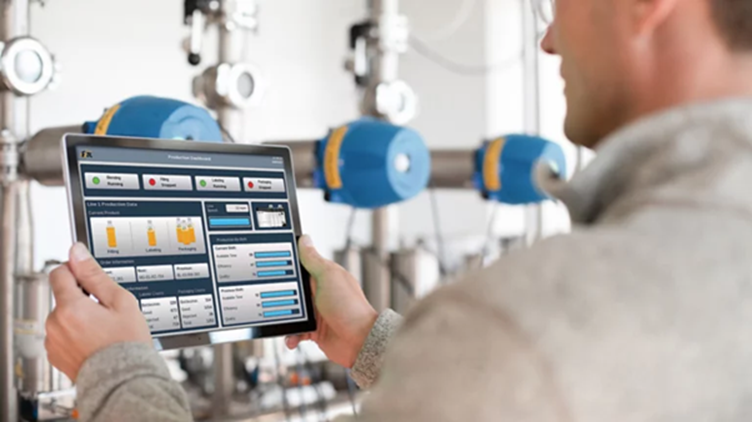 Source: Rockwell Automation, A worker uses a programmable logic controller (PLC) interface
FactoryTalk is deployed to connect to IIoT devices on essential equipment, collecting sensor data and securely transferring it to the cloud. Once the data is in the cloud, advanced AI algorithms within FactoryTalk analyse the information to detect failure patterns and alert managers of potential issues. At an Australian iron ore mine site, FactoryTalk, as a part of Metso Metrics, monitored the crushers' data for known failure patterns and anomalies, enabling predictive maintenance and downtime avoidance. According to Rockwell Automation, this system detected a potential catastrophic event that could have cost the Miner more than A$1 million if it had not been addressed in time.
By constantly pushing the boundaries of what is possible and embracing new technologies, Rockwell Automation is well-positioned to shape the future of industrial automation and bring about positive change for businesses and society alike.
Aptiv PLC - Driving innovation
Aptiv PLC, a global technology company specialising in automotive solutions. Aptiv's business started by focusing on integrating components for vehicle safety and has since evolved to develop integrated systems for autonomous driving and fleet management.
Aptiv is transforming the automotive industry with its advanced technologies and systems. The company's expertise in areas such as vehicle connectivity, electrification, and advanced driver-assistance systems (ADAS) is enabling the development of more intelligent and connected vehicles. These advancements not only improve the driving experience but also pave the way for a more efficient and environmentally friendly transportation ecosystem.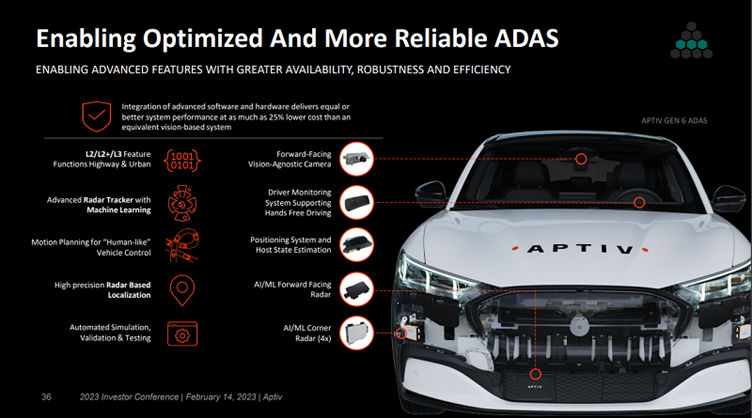 Source: Aptiv, Investor Conference Presentation, February 2023
As Aptiv moves towards the integration of autonomous driving and fleet management solutions, the company is poised to help bring about significant benefits for its customers and society. Just as Gilbreth's innovations improved worker efficiency, Aptiv's focus on autonomous vehicles has the potential to reduce traffic accidents, alleviate congestion, and lower carbon emissions.
Furthermore, we see Aptiv's integration of technological capital as having the potential to create a sustainable business advantage by offering propriety systems that deliver a critical service. In essence, we believe these proprietary systems will allow Aptiv to capture more of the automobile market value chain and place the company in a position to deliver attractive returns to shareholders.
In summary, Aptiv's journey from component integration to the development of advanced automotive systems and autonomous driving technologies reflects the innovative spirit of pioneers like Frank Gilbreth. By continually pushing the boundaries of what is possible and embracing new technologies, Aptiv is well-positioned to shape the future of transportation and bring about positive change for society.
Zebra Technologies – Mastering motion
Gilbreth's vertical scaffold transformed the bricklaying process by rethinking the way materials were handled and organised. Zebra Technologies (Zebra) is continuing down a similar path by helping companies reimagine their workflows through data capture, automation, and connectivity. By providing businesses with tools such as barcode scanners, RFID systems, and mobile computers, Zebra enables organisations to collect and analyse real-time data, leading to more informed decision-making and optimised processes.
MotionWorks, an asset tracking and management solution, is one implementation technology suite that Zebra uses to enhance the efficiency of manufacturing and logistics operations. By employing RFID tags, barcode labels, and real-time location systems, MotionWorks allows companies to monitor the movement of assets and inventory throughout their facilities, oversee equipment usage, and streamline workflow processes. This heightened visibility empowers businesses to make data-driven decisions, reduce operational expenses, and elevate overall productivity.
Whirlpool Corporation, the world's leading global manufacturer of home appliances, implemented Zebra's MotionWorks to optimise mobile device management across its distribution centres. They faced challenges such as misplaced devices, limited battery life, difficulties in updating devices systematically, and a lack of data metrics concerning device performance.
Whirlpool partnered with Industrial Service Technology (IST), which provided them with Zebra hardware and software solutions for warehouse management, RF, and RFID systems. Whirlpool implemented Zebra XT15 mobile computers, VH10 vehicle-mounted computers, and Zebra's Operational Visibility Service (OVS). This combination allowed Whirlpool and IST to sense potential problems, analyse the issues, and act on a solution in real-time.
With Zebra's solutions Whirlpool saw quick results, including an 18-site remote rollout of 635 Zebra devices across 20 U.S. facilities in just over two months, achieved a 63% return on investment (ROI) on the deployment over the course of November and January. Whirlpool's partnership with Zebra and IST has allowed the company to leverage technology to improve logistics, control costs, and enhance performance across its distribution centres.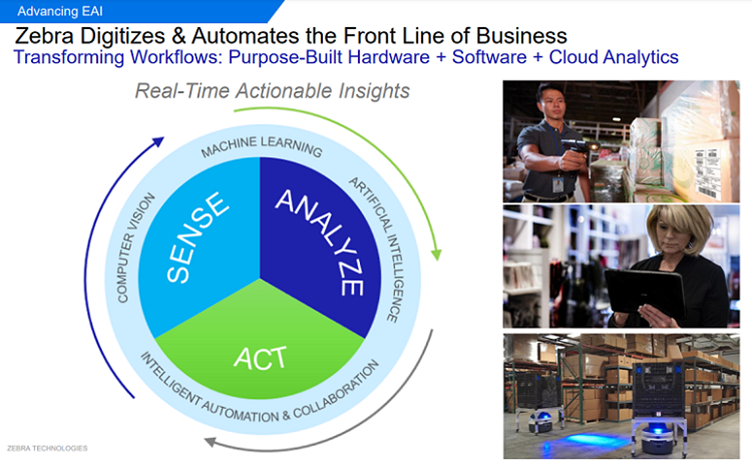 Source: Zebra Technologies, Investor Presentation, 2023
Moreover, just as Gilbreth's approach to industrial design emphasised the importance of ergonomics and the well-being of workers, Zebra Technologies continues this legacy by designing user-friendly devices that simplify tasks, minimise errors, and reduce strain on employees. Their solutions not only contribute to greater efficiency but also prioritise the health and safety of the workforce.
Zebra Technologies continues to empower its customers to achieve new levels of efficiency, productivity, and growth, much like Gilbreth's pioneering efforts did in his time.
Organisation design – The backbone of proprietary systems and processes
Organisational design, much like other more celebrated technological breakthroughs, plays a pivotal role in shaping the modern business landscape. While its significance might be overlooked, savvy investors recognise the opportunities it presents. By leveraging data and technology, companies like Rockwell Automation, Zebra and Aptiv are developing proprietary solutions to enhance their customers business and in the process creating a strong foundation for their own sustainable competitive advantages.
In a fast-evolving world, we believe the power of organisational design will serve as a key driver for growth, fostering innovation and efficiency, and ultimately positioning businesses at the forefront of their respective industries.
First published on the Firstlinks Newsletter. A free subscription for nabtrade clients is available here.
Francyne Mu is a Portfolio Manager for the Franklin Global Growth Fund (ASRN 132 597 972). Franklin Templeton is a sponsor of Firstlinks. Analysis as at 29 June 2023. This information has been provided by Firstlinks, a publication of Morningstar Australasia (ABN: 95 090 665 544, AFSL 240892), for WealthHub Securities Ltd ABN 83 089 718 249 AFSL No. 230704 (WealthHub Securities, we), a Market Participant under the ASIC Market Integrity Rules and a wholly owned subsidiary of National Australia Bank Limited ABN 12 004 044 937 AFSL 230686 (NAB). Whilst all reasonable care has been taken by WealthHub Securities in reviewing this material, this content does not represent the view or opinions of WealthHub Securities. Any statements as to past performance do not represent future performance. Any advice contained in the Information has been prepared by WealthHub Securities without taking into account your objectives, financial situation or needs. Before acting on any such advice, we recommend that you consider whether it is appropriate for your circumstances.