Paul Xiradis | Ausbil Investment Management
Having managed an active large-cap investment strategy for over a quarter of a century, you could say I have become quite familiar with their idiosyncratic nature, what is good in large caps - and what does not work in large caps.
Over the years I have observed many elements of a successful large cap. The first is a strong business model that can generate earnings growth year-on-year, and also has the potential to invest cashflows into capital expansion and business development at returns that are more attractive than the alternative, capital management and dividend payouts. This sounds simple, but so many businesses just cannot achieve these two things, let alone compete with peers in a global and competitive marketplace.
Beyond the quality of the core business model, in very simple terms, a good large company should have a strong balance sheet, manageable levels of debt, a supportive and stable ownership structure, strong corporate governance, strong and improving ESG credentials, and a strong and experienced management team. A good large company should have a healthy brand, a strong reputation that is guarded, a unique position or proposition that demarcates it from competitors, and potentially an element of protection or barriers to entry that inhibit competitors and enhances the value of its business.
Large caps have always been of interest to me perhaps given the complexity they show, and the potential to find gems in this complexity if you take the time to analyse and know a company. Owning a share of Australia's largest and most successful companies is an exciting prospect for investors, and with a careful active approach, it can also be rewarding.
Of course, you do not invest in large companies just because they are large. There can be both good and bad reasons behind a company that has become a large cap. It is not always apparent, but understanding the reasons can help focus on what matters when finding large-cap stocks.
Typical characteristic comparison for large-cap stock v small-cap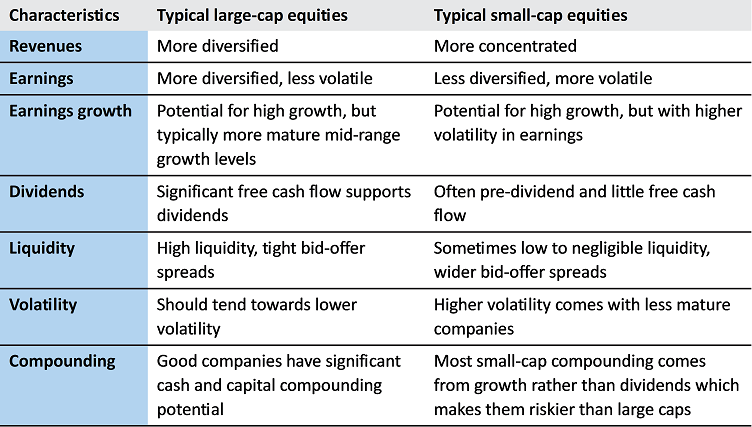 Source: Ausbil.
The relativity between size and earnings is what really matters for the allocation of risk capital. Investors who are serious about generating compound returns on equity look at the interrelationship between earnings and earnings growth, and what it means for value so that assets are acquired for a return on capital that offers the potential for outperformance.
To illustrate this with a contrasting example, in market-cap weighted ETFs (exchange traded funds), the larger the market cap of a company, the more investment capital it attracts, regardless of its earnings profile, growth outlook or whether the business is growing or shrinking. Hence, sentiment-pumped market caps are rewarded for being big, rather than being profitable or having a future earnings growth profile.
Risks
There are a number of risks that come with larger companies. Firstly, there is the challenge of complexity. We have a team of equity analysts and portfolio managers who study the same companies every day, 365 days a year, watching every notice, every change and revaluing these companies on an ongoing basis. They are still complicated. However, we believe this complication also offers significant opportunities for outperformance.
Who owns the company and how management are incentivised makes a big difference to how they make decisions. Large caps where management and staff are aligned not just to the interests of customers but also the interest of equity holders can make a huge difference to how a large cap performs. The flipside to this is that poor alignment and bad management can destroy a large cap.
Other risks, of which we avoid through our research and knowledge of companies, can include transparency problems, specific ESG issues or exposures (including negative momentum sustainability scores), and any other element of a company or the market in which it operates that screens as a risk to earnings. We are vigilant on anything that is a risk to our view on earnings growth, and our process is clinical in allocating away from anything we think is adverse to a company growing its earnings and dividends.
Favoured thematics
We remain focused on the key thematics that are driving long-term earnings growth, particularly where imbalances see demand exceeding supply on a fundamental basis for some time.
We like critical metals and commodities for the long rotation from fossil fuels to renewables in the great decarbonisation, and the electrification-of-things, with the steady switch from combustion and fossil fuel power to renewable electricity generation. Service companies associated with the cap-ex investment needed for this energy transition are also attractive. With China re-emerging from its intense COVID issues, we see upside in commodity prices as demand returns across calendar 2023.
The beneficiaries of elevated inflation are expected to perform in 2023, but the emphasis on those that perform well in a rising rate environment is starting to shift towards those that will benefit with stabilisation and peaking rates. Quality REITs, some quality leaders in technology, and some exposures in building products are helping to bridge the shift from the inflation beneficiaries that outperformed in 2022.
Earnings
One of the benefits of investing in businesses with high cash-backed earnings that produce a steady EPS growth profile is the potential that comes not from a few years of high returns, but from steady outperformance over time. Such stocks can produce a compounding effect in the returns generated from these balance sheets over time. The beauty of the mathematics behind compounding is that a small, repeatable outperformance advantage, replicated over time, can create a very large advantage.
For investors, the Australian market offers alpha generating opportunities over the long term, and across the cycle.
We believe earnings growth will be hard to come by in 2023, however Ausbil expects key sectors to offer strong EPS growth opportunities above consensus, and some quality leaders across the market to demonstrate earnings growth with resilient demand across the economic cycle, and the capacity to pass on higher costs to end- consumers.
With this in mind, we see ongoing support for earnings growth in resources, diversified financials, general insurers and in energy given the shock we have experienced from the invasion of Ukraine. In resources, we are invested extensively across the decarbonisation thematic, in copper, nickel, lithium and rare earths. We are avoiding sectors that are cyclical, over-exposed to slowing economic growth, and whose earnings are adversely impacted by inflationary pressures. This includes construction, retailing and consumer discretionary.
Longer term outlook
Longer term, Australia is positioned as an economy to offer major investment and growth potential for listed companies.
Firstly, given the drive to net zero by 2050, the underlying push to decarbonise the world will require a lot of natural resources, particularly base metals, battery materials, bulk materials, and energy. Australia is one of the best positioned economies globally to benefit from this fundamental change.
Secondly, Australia's trade relationship with Asia, and China in particular, has greatly benefitted the country and will continue to drive demand for our exports in the coming decades.
Thirdly, Australia is a young country that is set to grow steadily with migration and in size. There will be a compound growth benefit in how we develop our own export markets in knowledge, services, technology, commodities, agriculture, tourism and expertise, and how this manifest in investment back into local construction, real estate, infrastructure, services and consumer markets. These key themes, we believe, position Australia with significant advantage over our peers from an economic growth perspective. In our view, it makes a lot of sense to invest in Australia's future.
We believe Australia is positioned for a long tailwind of economic growth, and while crises like the pandemic, wars and the recent energy crisis may hinder the economy in the short term, in the long run this tailwind of growth can drive compound returns for patient investors.
A critical aspect to this tailwind of growth will be Australia's position as a key natural resources' economy, though it will also manifest in Australia's education and health care exports, and in the internal growth of our economy.
Australian large-cap stocks offer an ideal vehicle in which to invest in the compounding benefits generated by key thematics, and by the ongoing compounding growth in Australia's population and economy. An active approach with a track record of long-term outperformance can only accelerate the benefits of such an approach.
First published on the Firstlinks Newsletter. A free subscription for nabtrade clients is available here.
Paul Xiradis is Co-Founder, Executive Chairman, Chief Investment Officer, and Portfolio Manager at Ausbil Investment Management. Analysis as at 29 June 2023. This information has been provided by Firstlinks, a publication of Morningstar Australasia (ABN: 95 090 665 544, AFSL 240892), for WealthHub Securities Ltd ABN 83 089 718 249 AFSL No. 230704 (WealthHub Securities, we), a Market Participant under the ASIC Market Integrity Rules and a wholly owned subsidiary of National Australia Bank Limited ABN 12 004 044 937 AFSL 230686 (NAB). Whilst all reasonable care has been taken by WealthHub Securities in reviewing this material, this content does not represent the view or opinions of WealthHub Securities. Any statements as to past performance do not represent future performance. Any advice contained in the Information has been prepared by WealthHub Securities without taking into account your objectives, financial situation or needs. Before acting on any such advice, we recommend that you consider whether it is appropriate for your circumstances.