Joshua Peach | Morningstar Australia
Many smaller listed companies have taken a battering in the last year as inflation and recession concerns pushed investors towards the larger end of town.
While that has presented buying opportunities for companies unfairly dragged down by the negative sentiment, a more difficult investing environment may be on the horizon.
Dr Raphael Arndt, CEO of Australia's sovereign wealth Future Fund said the current market environment had the fund's team eyeing the smaller end of Australian stocks for the first time.
"Markets are constantly changing, and we must evolve our strategy in response," he said at a public speaking event in Sydney in April.
"For example, changes in domestic markets have made small cap equities attractive to us for the first time and we have commenced a new program to invest in them in recent months."
As cause for this shift, Arndt said "conditions had changed", and the role of active managers and stock pickers were once again proving more valuable.
Arndt's comments follow a difficult 12 months for small cap stocks, as investors sought out safer defensive plays in large- and mega-cap companies.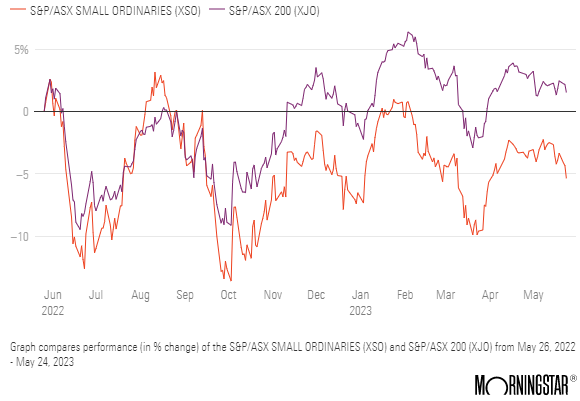 Source: Morningstar 2023
While the smaller cap performance has improved in recent months, the S&P/ASX Small Ordinaries remains down over the last year, relative to the larger players in the ASX 200 benchmark.
Growth sell-off brings opportunities
Arndt's comments are shared by Katie Hudson, executive director and head of Australian equities research at Yarra Capital Management.
Hudson, who heads Yarra's Australian Smaller Companies Strategy, foresees a low-growth environment ahead and says investors won't be able to rely on previous economic tailwinds to drive returns.
"I think we're in an environment where Beta is going to be lower and Alpha and stock picking should be more highly valued," she said on the sidelines of the 2023 Morningstar Investment Conference. 
"For companies that won't have an economy with a tailwind to drive growth, they'll have to take market share to get growth and they'll have to acquire—that means you're looking to invest in companies with different characteristics," she says.
Despite that more challenging environment, however, Hudson says the small-cap growth sell-off has resulted in new opportunities, if you know what to look for.
"In the smaller cap space, it's been a pretty uniform sell-off, and with that you're going to find pockets of opportunity."
"I think as we go through the next couple of years, from an economic point of view it's going to be more challenging than it has been but as we moved through that environment, we really think some of those growth companies are going to be the place to be," she says.
Hudson says opportunities exist across the board but notes tourism and travel, and financial services, as two areas worth examining.
"In financial services, there's Pinnacle (PNI). As the market starts to improve, it's a cheap, growth way to get access to that."
Pinnacle is currently trading at a 21% discount to Morningstar's fair value estimate of $11.00 per share.
"We're big fans of Kelsian (KLS). We think they've made a great acquisition with that US bus service and think that's a great opportunity for them," she says.
Morningstar recently initiated coverage on Kelsian with a fair value estimate of $6.50 per share. The defensive tourism company operates public transport bus services throughout Australia and Singapore on behalf of state governments.
"We've also got exposures to companies like Auckland Airport (AIA) and Flight Center (FLT). We think travel should prove to be a resilient category in the consumer space," she adds.
First published on the Firstlinks Newsletter. A free subscription for nabtrade clients is available here.
Joshua Peach is a reporter for Morningstar Australia. Analysis as at 5 June 2023. This information has been provided by Firstlinks, a publication of Morningstar Australasia (ABN: 95 090 665 544, AFSL 240892), for WealthHub Securities Ltd ABN 83 089 718 249 AFSL No. 230704 (WealthHub Securities, we), a Market Participant under the ASIC Market Integrity Rules and a wholly owned subsidiary of National Australia Bank Limited ABN 12 004 044 937 AFSL 230686 (NAB). Whilst all reasonable care has been taken by WealthHub Securities in reviewing this material, this content does not represent the view or opinions of WealthHub Securities. Any statements as to past performance do not represent future performance. Any advice contained in the Information has been prepared by WealthHub Securities without taking into account your objectives, financial situation or needs. Before acting on any such advice, we recommend that you consider whether it is appropriate for your circumstances.