Joshua Peach | Morningstar Australia
A rollercoaster ride for shares in New Zealand infant milk formula group The a2 Milk Company (A2M) over the last 12 months has landed the company back on Morningstar's global best ideas list.
The best ideas list aims to identify high-quality companies which are currently trading at discounts to their assessed fair values.
The only new ASX-listed company to make the list this month, a2 Milk Co is a licensor and marketer of fresh milk, infant formula and other dairy products that lack the A1 beta-casein protein.
The narrow-moat company is no stranger to Morningstar's best ideas list, having been listed several times since first making the cut in 2018.
However, a2 Milk Co was dropped from the list in January following a share price rally in the back half of 2022, which brought shares close to Morningstar's fair value estimate (FVE) of $7.20.
A2's share price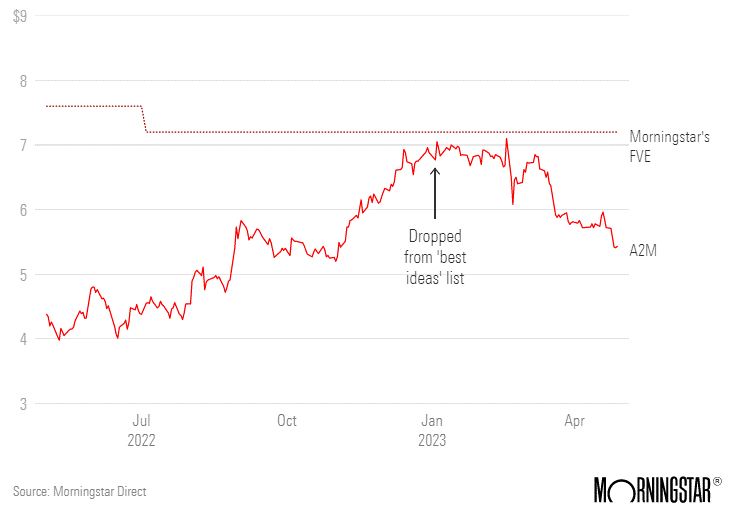 Source: Morningstar 2023
Share price falls bring back opportunity
Shares in the company hit their 52-week high in February of this year, ahead of its interim fiscal 2023 results. But following the report, shares plunged almost 15% - partially due to rising concerns about ongoing demand in the company's key Chinese market.
Shares then slipped again late last month after the company revealed its FY23 revenue growth was on track to come in at the lower end of expectations. The news came soon after the company's long-time manufacturing partner and fellow ASX-lister Synlait (SM1) downgraded its FY23 profit guidance due to an expected drop in demand.
The series of selloffs has pulled a2 Milk back into undervalued territory in recent months and shares are trading at a 25% discount to where Morningstar sees fair value.
Morningstar analyst Angus Hewitt says there's still a lot to like about the company's prospects, notably in the 'key battleground' of China.
"A2's share in Chinese-language-labelled infant formula continues to grow, supported by a2 Platinum's solid brand health that underpins its narrow economic moat," he says.
"We still expect solid future gains, with market share opportunities in Chinese infant formula, North American fresh milk, and other global dairy products supporting our outlook for double-digit annual EPS [earning-per-share] growth over the next five years."
Hewitt points to declining births in China and shifting consumer habits as potential hurdles for the company but adds that other factors should help offset these issues.
"Tailwinds of [Chinese] consumers preferring foreign brands are no longer blowing, as country of origin is no longer a point of differentiation."
"Offsetting the falling number of births in China, we anticipate premiumisation to continue and expect a2 Milk to capture market share."
First published on the Firstlinks Newsletter. A free subscription for nabtrade clients is available here.
Joshua Peach is a reporter for Morningstar Australia. Analysis as at 2 May 2023. This information has been provided by Firstlinks, a publication of Morningstar Australasia (ABN: 95 090 665 544, AFSL 240892), for WealthHub Securities Ltd ABN 83 089 718 249 AFSL No. 230704 (WealthHub Securities, we), a Market Participant under the ASIC Market Integrity Rules and a wholly owned subsidiary of National Australia Bank Limited ABN 12 004 044 937 AFSL 230686 (NAB). Whilst all reasonable care has been taken by WealthHub Securities in reviewing this material, this content does not represent the view or opinions of WealthHub Securities. Any statements as to past performance do not represent future performance. Any advice contained in the Information has been prepared by WealthHub Securities without taking into account your objectives, financial situation or needs. Before acting on any such advice, we recommend that you consider whether it is appropriate for your circumstances.