Christine St Anne | Morningstar Australia 
The latest industry pulse report on the retail sector provides a gauge on the industry, including the challenges for retailers and opportunities for investors. 
We take a look at four charts from a report by Morningstar director of equity research Johannes Faul to better understand the pulse of the industry. 
1. Discretionary retailer trading updates are downbeat, but upside for some.
With a booming six months to Christmas, the first quarter highlights a sombre outlook. 
Faul notes the trading updates showed that sales growth materially weakened for omnichannel retailers (that is, both online and physical stores) including Harvey Norman (HVN) and JB Hi-Fi (JBH).
However, Faul sees upside for some service-exposed businesses such as Domino's Pizza (DMP) and InvoCare (IVC).
Chart 1: Ominchannel retailers have started losing sales momentum in calendar 2023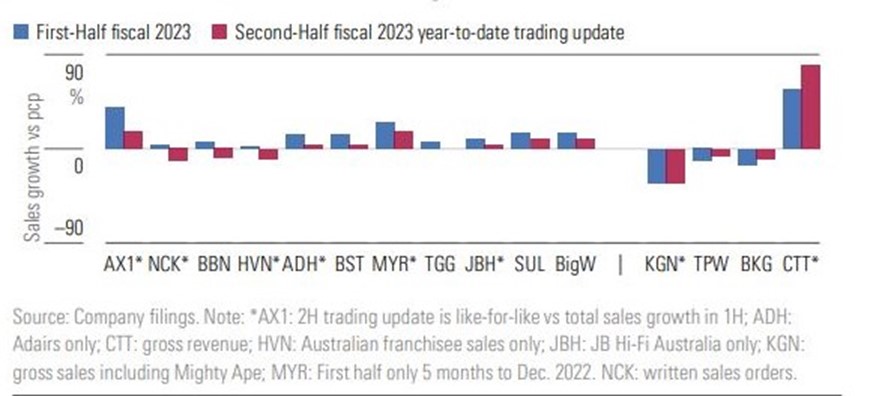 2. Supermarket giants losing market share 
Unusually high food price inflation has helped the two supermarket majors expand gross profit margins, but at the cost of market share.
Faul sees a risk that discounters and independents grab more market share, reversing the recent margin gains, with Metcash (MTS) and Endeavour (EDV) the most attractive defensives. 
Chart 2: Fairly valued Metcash and Endeavour are the most attractive defensives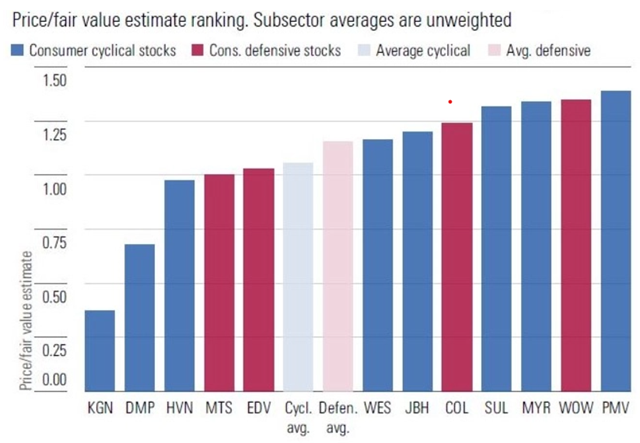 Source: Morningstar Australia, 2023
3. E-commerce growth likely to return as demand normalises
From fiscal 2024, Faul predicts e-commerce to outperform brick-and-mortar retailing with high-single-digit annual growth rates.
Kogan (KGN) is well placed to benefit from this structural shift away from physical stores. As of 24 March 2023, Kogan was trading at a 62% discount to Morningstar's $10.70 fair value estimate, which Faul ascribes to a material decline in sales and earnings from 'boomtime levels'.
Chart 3: Online penetration increased in late 2022, breaking the recent downtrend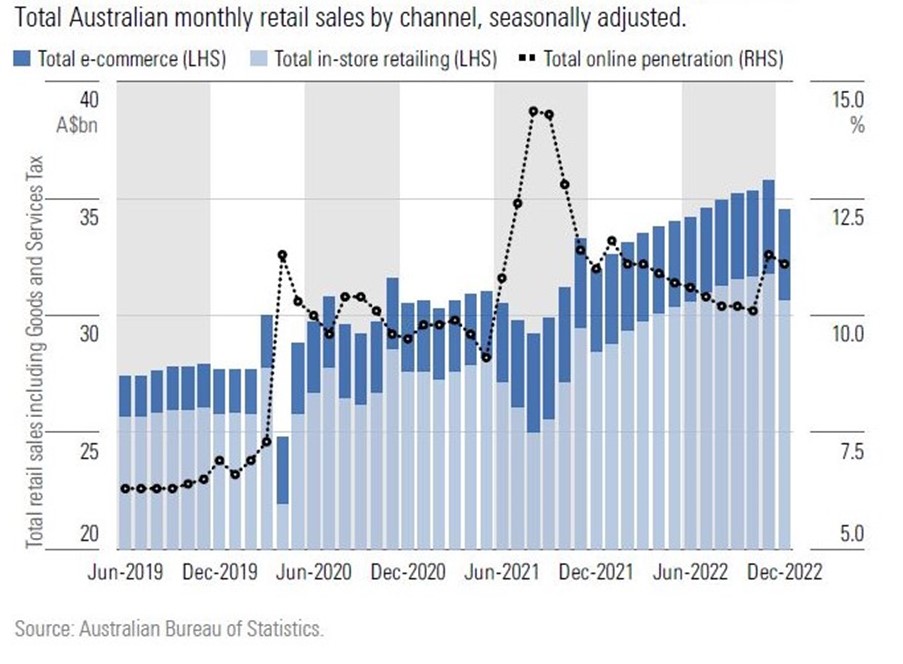 4. Dining out is back, but on the cheap
Momentum for dining out by consumers continued in the first quarter but Faul expects cost-of-living pressures to impact. Goodbye high-end restaurants and hello cheaper takeaways.
Acknowledging that there needs to be a balance between market share and profit, Faul believes that Domino's Pizza is well placed in that environment.
Chart 4: Supermarket and liquor sales below trend… but restaurants and cafes outperformed

First published on the Firstlinks Newsletter. A free subscription for nabtrade clients is available here.
Christine St Anne is communications manager at Morningstar Australia. Analysis as at 30 March 2023. This information has been provided by Firstlinks, a publication of Morningstar Australasia (ABN: 95 090 665 544, AFSL 240892), for WealthHub Securities Ltd ABN 83 089 718 249 AFSL No. 230704 (WealthHub Securities, we), a Market Participant under the ASIC Market Integrity Rules and a wholly owned subsidiary of National Australia Bank Limited ABN 12 004 044 937 AFSL 230686 (NAB). Whilst all reasonable care has been taken by WealthHub Securities in reviewing this material, this content does not represent the view or opinions of WealthHub Securities. Any statements as to past performance do not represent future performance. Any advice contained in the Information has been prepared by WealthHub Securities without taking into account your objectives, financial situation or needs. Before acting on any such advice, we recommend that you consider whether it is appropriate for your circumstances.