Megan Neil | Morningstar Australia
Whether it's an iconic shopping centre like Melbourne's Chadstone or Sydney's Queen Victoria Building, a Westfield or a small local mall, there are ways individual investors can put retail on their shopping lists - without the multi-million-dollar price tag.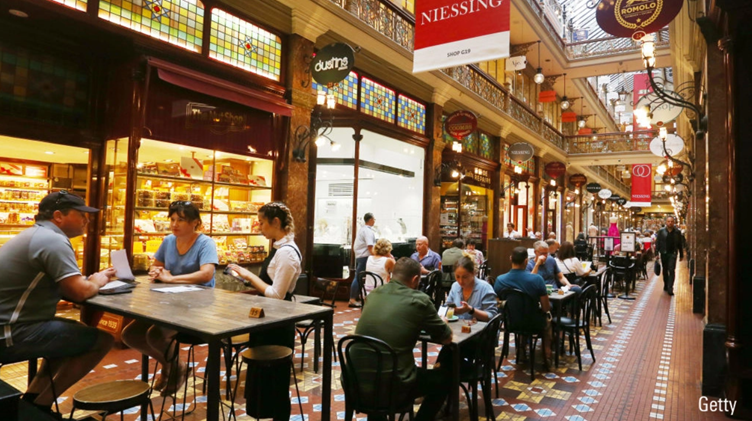 The Strand Arcade in Sydney's CBD is co-owned by Vicinity Centres. Picture: Getty
Even as interest rates rise, Australian retail assets remain on the radar of commercial property investors, with large players paying as much as hundreds of millions of dollars for high-quality shopping centres.
While high-net-worth individuals are among those buying smaller malls, ASX-listed real estate investment trusts (REITs) that own shopping centres offer everyday investors exposure to the sector at an affordable entry point.
The REITs behind these iconic malls
Retail REITs Scentre Group (SCG) - which owns Westfield malls - and Vicinity Centres (VCX) are the nation's biggest shopping centre owners, while unlisted investment companies are also major players.
Vicinity collects the rent from some of Australia's top and most iconic retail destinations, led by the nation's largest shopping centre Chadstone that it co-owns with Gandel Group.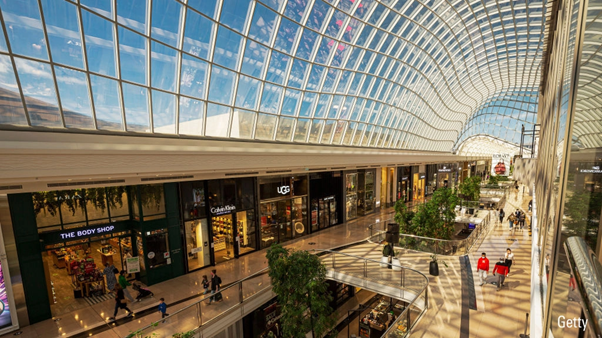 The nation's largest shopping centre Chadstone is in Melbourne. Picture: Getty
Vicinity's 59 shopping centres include seven premium CBD malls in Sydney, Melbourne and Brisbane, headed by the heritage-listed Queen Victoria Building that is a major tourist attraction.
Vicinity co-owns QVB, The Strand Arcade and The Galeries - each regarded as iconic Sydney CBD retail centres - with Hong Kong's Link REIT, which bought its $538 million half-stake in 2021.
Other landmark buildings in Vicinity's portfolio include Myer Bourke Street and Emporium in the Melbourne CBD and QueensPlaza and the Myer Centre in the Brisbane CBD.
Myer is looking for a new Brisbane CBD location after announcing on Thursday it will not renew the lease in its namesake centre, which co-owners Vicinity and ISPT now plan to redevelop.
Scentre Group owns 37 Westfield centres in Australia, including some of the country's largest malls in Melbourne's Fountain Gate and Sydney's Parramatta, and five in New Zealand.
Morningstar equity analyst Alex Prineas expects Vicinity's malls to remain among the top destinations for physical retailing in Australia and notes Scentre has many of the nation's best retail assets.
"We think they have the best quality mall portfolios in Australia as far as the destination mall where they're capturing a big share of retail spending and it would be difficult for other rival malls to be established. But they do have competition from online retail."
Ray White Commercial head of research Vanessa Rader says the competition from online retail is real, with 10.3% of all retail sales now done online.
But Rader says shopping centres "are far from dead", predicting the visitor experience will continue to evolve.
"There are more different types of uses than we've ever seen before in shopping centres like rock climbing, childcare and more medical uses - things that people actually have to come in to do and can't do online."
She says the food offering will also ensure the continued need for shopping centres anchored by supermarkets.
"So shopping centres are not dead, however, the tenant types which occupy brick and mortar retail are certainly changing, with a greater weighting to food and service-type industries."
Malls globally have evolved into mixed-used precincts and town centres offering dining, entertainment, leisure, offices, apartments, health services, childcare and, in Chadstone's case, a luxury hotel.
ASX-listed property trusts such as GPT Group (GPT), Mirvac (MRV) and Stockland (SGP) also have malls in their portfolios.
Challenging retail outlook but tenants have to pay the rent
As Moody's Investors Service analysts covering Vicinity and Scentre note, retail sales - and consequently earnings for the REITs' tenants - are expected to moderate due to higher interest rates and cost-of-living pressures.
"However, the return of international travellers to Australia, particularly Chinese tourists, is likely to be positive for high-end shopping centre assets in the central business districts, areas that are taking longer to recover from the pandemic," Moody's senior vice president Matthew Moore says.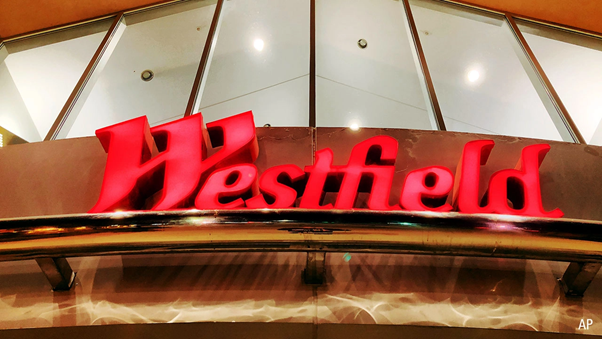 Scentre Group owns and operates Westfield's Australian malls. Picture: AP
Prineas says Vicinity posted a solid first-half result and has staged a good recovery after pandemic lockdowns, although its CBD assets remain "relative laggards" in the portfolio with weekday foot traffic still affected by the work-from-home shift.
"We expect a modest improvement in fiscal 2023 and beyond with the return of international students, CBD employees spending more days in the office, and incredibly strong population growth."
He says Scentre's 2022 result shows the Westfield mall operator has recovered from the pandemic, collecting the highest amount of rent in its history.
Prineas says higher interest rates are impacting all REITs because of their higher debt levels.
"It's also a headwind for the tenants, whose sales might be impacted by higher interest rates and more cautious consumers, but they do have to keep paying the rent and most of the tenant books of the major REITs are pretty strong."
Rental growth is also built into leases.
"The REITs' revenues are quite predictable and stable, but their costs are increasing substantially because of the higher cost of debt," Prineas says.
Morningstar has three-star ratings on both Vicinity and Scentre, meaning their securities are trading at levels considered to be fairly valued.
"We do view them as high quality, but we think a lot of that is priced in," Prineas says.
"It's also worth noting that Scentre Group has a pretty heavy debt load. So although its underlying property portfolio is very high quality, it's carrying a lot of debt that we think it needs to reduce."
Demand for local malls from private investors
Neighbourhood shopping centres - smaller local malls with a supermarket as the major tenant - have been highly sought-after by both private and institutional commercial property investors.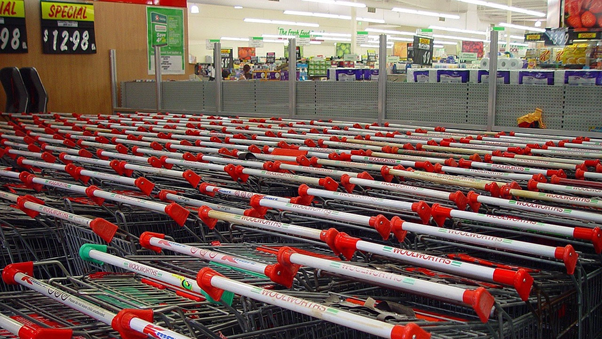 Neighbourhood shopping centres generally have a supermarket as the major tenant. Picture: AP
Colliers' retail investment review shows neighbourhood centres sold for an average price of $39.5 million last year.
While those prices are out of reach for everyday investors, listed property trusts Charter Hall Retail REIT (CQR) and Region Group (RGN) focus on neighbourhood or convenience retail.
Charter Hall Retail REIT owns 51 convenience shopping retail assets plus hundreds of service stations, while Region Group has 104 convenience-based retail properties.
Prineas notes the neighbourhood property and convenience retail spaces are fragmented, with many other centres and owners.
"It's more about convenience and doing your daily shopping needs rather than a destination where you go to buy fashion items or consumer electronics," he says.
"There are a lot more competitors in the space. They are competing with service stations and with other neighbourhood malls.
"But we think a lot of that is priced in there and we view those two REITs as about fairly valued."
Prineas notes well over half of Charter Hall Retail REIT's income comes from tenants that are unlikely to miss rental payments, including Woolworths, Coles, BP, Ampol and Wesfarmers.
In Region Group's case, half of the REIT's gross rental income comes from strong anchor tenants with long leases.
First published on the Firstlinks Newsletter. A free subscription for nabtrade clients is available here.
Megan Neil is a Morningstar Australia contributor. Analysis as at 30 March 2023. This information has been provided by Firstlinks, a publication of Morningstar Australasia (ABN: 95 090 665 544, AFSL 240892), for WealthHub Securities Ltd ABN 83 089 718 249 AFSL No. 230704 (WealthHub Securities, we), a Market Participant under the ASIC Market Integrity Rules and a wholly owned subsidiary of National Australia Bank Limited ABN 12 004 044 937 AFSL 230686 (NAB). Whilst all reasonable care has been taken by WealthHub Securities in reviewing this material, this content does not represent the view or opinions of WealthHub Securities. Any statements as to past performance do not represent future performance. Any advice contained in the Information has been prepared by WealthHub Securities without taking into account your objectives, financial situation or needs. Before acting on any such advice, we recommend that you consider whether it is appropriate for your circumstances.