A stock that a serious group of investors was prepared to pay $88.00 per share for, now trading almost 30% lower at $62.42, should be an interesting proposition. Moreover, it is trading near Covid lows.
And when it has supportive tailwinds in an ageing population, increasing demand for medical services as technology improves, plus governments funding most of the cost, that makes it very interesting. Add in that over the medium term it has been well managed and is clearly  the industry leader in some of its markets.
The company, of course, is Australia's leading operator of private hospitals, Ramsay Health Care (RHC). But it is more than this, as it is also one of the leading operators in France, the United Kingdom and northern Europe.
The five year price chart below tells the story. Ramsay raised capital during the heights of the pandemic at $56.00 per share when elective surgery was stopped and visitations to private hospitals were suspended. Since then, it has largely traded between $60 and $70, spiking to the high eighties when a KKR led consortium announced a takeover bid, before tumbling back to the $60 level when the bid was terminated.
Ramsay Health Care (RHC) –Nov 17 to Nov 22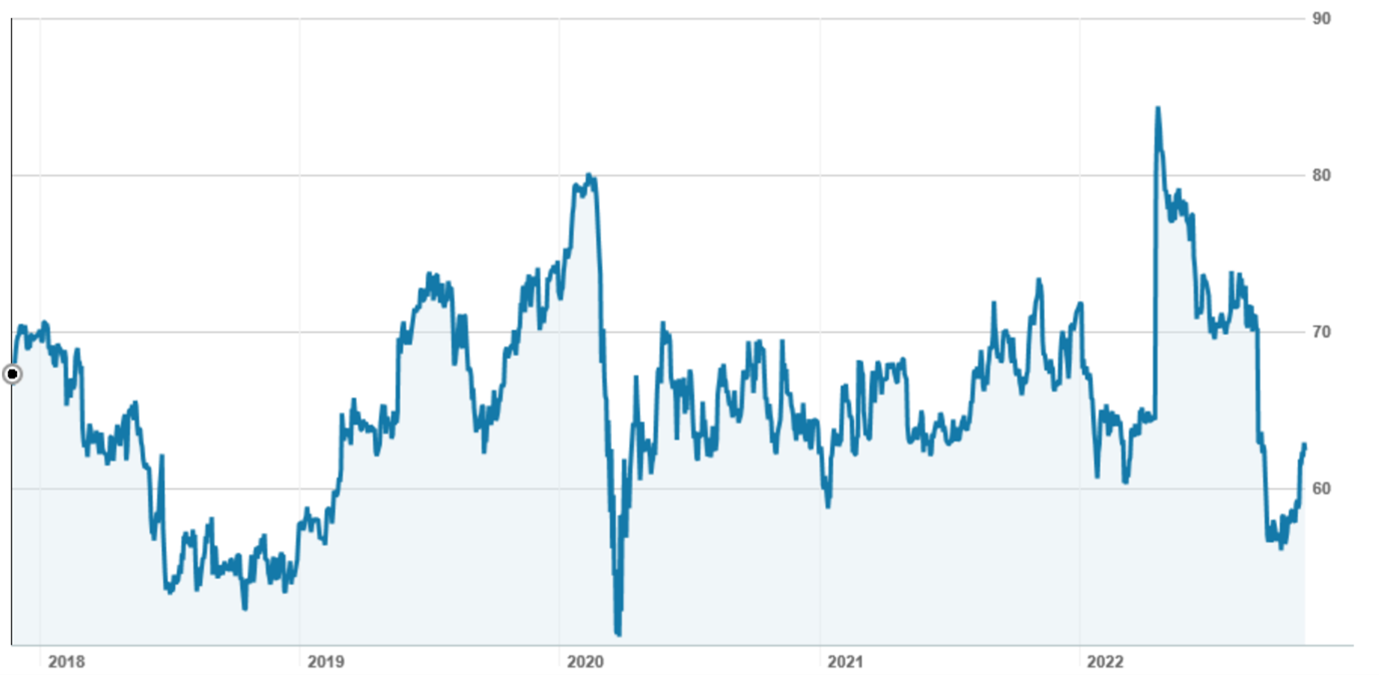 Source: nabtrade
In April, a consortium led by KKR launched an indicative offer for Ramsay at $88.00 per share. With Ramsay also allowed to pay a fully franked special dividend, the effective offer price was $91.20 per share. Over the next 5 months, KKR worked every angle to see if it could make the bid work and secure the support on the Ramsay Board.
This allegedly including proposals to separate the property assets (hospitals) from the operating company via a 'sale and leaseback' style arrangement, which would extract value for shareholders. In Europe, where Ramsay owns 52.5% of separately listed Ramsay Santé, the second largest private care provider in Northern Europe with facilities in France, Italy, Denmark, Sweden and Norway, some shareholders were set to receive part of the takeover proceeds via an in-specie distribution of Ramsay Santé shares.
The deal fell over in late September, with the Ramsay Board unwilling to progress discussions further and KKR not being able to work through issues relating to Ramsay Santé.
On Remembrance Day, Ramsay provided an update on the first quarter's trading. Total revenue for the first quarter of FY23 was up 6.7% on FY22 to A$3,445m, while EBIT fell 12.9% to A$171.9m. Net profit after tax fell 1.2% to A$57.4m for the quarter.
The Australian hospitals business, which accounts for 40% of revenue but generates 80% of earnings, saw a 3.6% rise in revenue and flat earnings. The operating environment improved across the quarter, with Covid related costs falling and admissions rising. Surgical admissions per work day in October 22 were 14.2% higher than in July 22.
In the UK, the operating environment improved progressively over the quarter. In local currency, revenue was up 5% and EBIT up substantially (off a very low base). Ramsay Santé also enjoyed revenue growth of 7.8%, but EBIT fell from €40.3m to €11.0m due to higher costs (inflation, higher personnel costs and increased interim staff costs due to staff shortages).
Looking ahead, Ramsay said that: "the outlook for the Group remains strong as the business is well placed to take advantage of the positive long term dynamics driving the healthcare industry. Ramsay expects a gradual recovery through FY23 and more normalized conditions from FY24."
What do the brokers say
The brokers are somewhat positive on Ramsay, with 3 'buy' recommendations, 2 'neutral' recommendations and 1 'sell'  recommendation. The consensus target price is $67.16, 7.6% higher than the last ASX price, with the individual targets in a tight range from a low of $62.00 to a high of $74.41.

Morgans says that "its key takeaway from 1Q results is improving conditions across all markets as the number of covid cases ease". Citi, on the other hand, says that "'performance in Europe and the UK remains challenged".
On multiples, the brokers have Ramsay trading a multiple of FY23 earnings of 34.5 times and 24.9 times forecast FY24 earnings.
Bottom line
Historically, Ramsay has traded at reasonably high multiple, reflecting its position as a market leader and the ability to deliver ongoing quality growth. So a multiple of around 25 times FY24 earnings doesn't look out of kilter.
I am guided more by the fact that KKR saw something in the business to offer to pay a 30% premium to what it is today, plus it hasn't done anything (in price terms) since the impact of Covid hit in 2020. Further, the impacts of covid are now clearly lessening.
A long term buy. I can't see what will lead to a re-rating in the short term, but on track record, I want to back it for the long term.
All prices and analysis at 21 November 2022.  This information was produced by Switzer Financial Group Pty Ltd (ABN 24 112 294 649), which is an Australian Financial Services Licensee (Licence No. 286 531This material is intended to provide general advice only. It has been prepared without having regard to or taking into account any particular investor's objectives, financial situation and/or needs. All investors should therefore consider the appropriateness of the advice, in light of their own objectives, financial situation and/or needs, before acting on the advice. This article does not reflect the views of WealthHub Securities Limited.