One of the biggest investment themes in recent years has been demand for the materials required in electric vehicles (EVs) and renewable energy. In particular, lithium, or "white gold," has caused its own stock market mini-boom, as companies work to bring new lithium projects online to meet the surging demand. 
Lithium has been a no-brainer for investors, as prices for the metal have increased tenfold in the last two years, on the back of insatiable demand from carmakers. But value in ASX lithium stocks has been hard to find.
The market received a bit of a shock late last month when investment banks Goldman Sachs and Credit Suisse came out with cautionary statements on lithium. Goldman Sachs warned of a coming "sharp correction" in the price of lithium, while Credit Suisse said that  lithium prices could peak in the "next few months" as markets priced-in a balancing of supply and demand in coming years, and dealt with China's economic slowdown and COVID lockdowns.
This dose of cold water had a bracing effect on lithium stocks. Producers Pilbara Metals (PLS) and Allkem (AKE) slid 23% and 19% respectively. Diversified players Mineral Resources (MIN) (which also produces iron ore) and IGO (which also mines nickel, copper and cobalt) fell 16% and 12% respectively. The group of lithium hopefuls – companies attempting to get lithium operations off the ground – were battered, with Piedmont Lithium (PLL) losing 18%, Core Lithium (CXO) down 21%, Liontown Resources (LTR) falling 19%, Vulcan Energy (VUL) surrendering 10% and African project developer Firefinch (FFX) plunging 69%.
It was a painful week for lithium investors, but the correction looks to have opened-up significant value. It's probably best to focus on producers, instead of companies with large, but speculative, projects planned – even if there have been offtake agreements signed. 
I think you can definitely make a case for buying Pilbara Minerals, Allkem and Mineral Resources. 
Pilbara Minerals (PLS) produces spodumene (hard-rock lithium ore) and tantalite concentrates from its flagship Pilgangoora project in Western Australia's Pilbara region. The Pilgangoora ore body is one of the largest hard-rock lithium deposits in the world, according to the company; the operation has two processing plants, one producing a spodumene concentrate and the other also producing a tantalite concentrate.
Burgeoning customer demand has driven a steady increase in production since the December 2020 quarter. PLS is restarting its Ngungaju plant, which will turn the company into a producer of 580,000 dry metric tonnes-a-year operation when at full capacity. PLS has told the market that it is targeting expanded combined production capacity of 560,000–580,000 tonnes a year from the September quarter of 2022. Planned upgrades to the Pilgan plant – Pilgangoora's first plant – will then target one million tonnes of spodumene concentrate a year. The overall Pilgangoora project has a mine life projected at about 26 years. 
Also, PLS says there is potential for the production of "mid-stream" value-added products in a joint venture with ASX-listed low emission technology developer Calix (CXL) to make lithium chemical salts and specialised chemicals. The proposed demonstration process will take lower-grade spodumene ore concentrate and process it on-site at Pilgangoora in a calciner and downstream processing plant, using renewable energy, to create a low-carbon, concentrated lithium salt product, for export: the product could be refined by customers into lithium battery materials, or potentially used as direct feedstock for lithium iron phosphate (LFP) cathode manufacture. Either way, the Calix joint venture should prove a sound move for PLS, producing a higher-value product in Australia.
Last month, PLS announced the results of its fifth spodumene concentrate digital auction, held via its Battery Material Exchange (BMX) platform. A cargo of 5,000 dry metric tonnes at a target grade of about 5.5% lithia (lithium oxide), with delivery expected from 15 June 2022, was auctioned, with PLS accepting the highest bid of US$5,955 a tonne. The BMX auctions tell the story of how PLS is travelling: the first such auction, in June 2021, saw the cargo sold to a bid of receive $US1,250 a tonne, then $US2,240 a tonne in the second auction, in September; then $US2,350 a tonne in October, and now $US5,9550 a tonne.
The May auction was a great result for PLS, with broker RBC Capital noting that the price was 35% higher than the prevailing spot price in China, demonstrating that Chinese buyers were willing to pay more for spodumene given the current lithium market conditions.
Pilbara Minerals (PLS)  – June 21 to June 22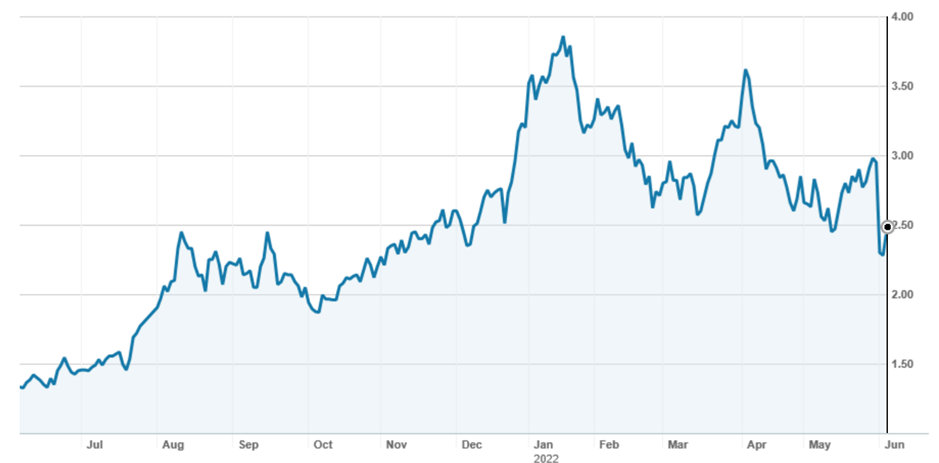 Source: nabtrade
At $2.39, Pilbara Minerals looks to be great value, against an analysts' consensus target price of $3.60 at Stock Doctor, and $3.71 in FN Arena's collation. JP Morgan is the most bullish broker on the stock, with a price target of $4.25. (Unsurprisingly, given the house view on where lithium prices are heading, Credit Suisse is the least positive, with a price target of $3.00.)
There is also good buying available in Mineral Resources (MIN, $60.35), against an analysts' consensus target price of $71.50 (Stock Doctor)/$69.75 (FN Arena), and Allkem (AKE, $11.68), compared to an analysts' consensus target price of $16.04 (Stock Doctor)/$15.80 (FN Arena). But I think PLS is better value at these levels. 
MinRes owns 50% of the Mt Marion spodumene (hard-rock lithium ore) mine and processing plant near Kalgoorlie in Western Australia, with the other half owned by Chinese company Ganfeng, which is also the mine's offtake partner, and also owns 40% of the Wodgina deposit in WA's Pilbara region, one of the largest-known hard-rock lithium deposits in the world, with the majority owner being US-based chemicals giant Albemarle. 
Wodgina has an expected mine life of more than 30 years, shipping 750,000 tonnes a year of 6% spodumene concentrate to Chinese customers. The partners mothballed Wodgina in October 2019, to sit-out weak lithium prices: they have now committed to a restart, with Wodgina expected to be back in business fully during the third quarter of 2022. 
The partners are also building Australia's second lithium hydroxide plant, at Kemerton, southwest of Perth, which is on track to produce its first battery-grade product by the end of this year.
Allkem owns the Olaroz brine lithium carbonate mine in Argentina and the Mt Cattlin hard-rock lithium mine in Western Australia and is planning a third lithium production centre at its James Bay hard-rock lithium project in Canada. The feasibility study on James Bay has the  proposed mine producing 321,000 tonnes of 5.6% spodumene a year for 19 years for the EV and battery industry, with an ore reserve of 37.2 million tonnes at 1.3% lithium oxide. Allkem says that it will cost US$286 million ($381.3 million) to bring the project onstream.
All prices and analysis at 06 June 2022. This information was produced by Switzer Financial Group Pty Ltd (ABN 24 112 294 649), which is an Australian Financial Services Licensee (Licence No. 286 531This material is intended to provide general advice only. It has been prepared without having regard to or taking into account any particular investor's objectives, financial situation and/or needs. All investors should therefore consider the appropriateness of the advice, in light of their own objectives, financial situation and/or needs, before acting on the advice. This article does not reflect the views of WealthHub Securities Limited.