What are the stocks to buy if the market tanks?
One year ago, we published our "best of the best" – the long term cornerstone stocks for your portfolio.
It came in response to a question that Peter and I get asked a lot: ''what are the stocks you really want to buy if the market tanks"?
Let's check in to see how we are going and consider if any changes are warranted.
With the emphasis on "long term" investing, we applied the following filters to develop the "best of the best":
Firstly, we sought to identify one company (and only one company) from each of the major ASX industry sectors – 8 in total. This helps to ensure a basic level of diversification;
We considered stocks with a track record as a listed ASX entity of at least 5 years (preferably 10 years);
We looked for "blue chip" stocks in terms of market liquidity, delivery and consistency of earnings, industry dominance, ASX sector relevance and market esteem; and
Within an industry sector, we biased the selection to a stock with lower relative volatility.
We started with the biggest sector by market capitalisation (financials) and worked through in descending order. We could not identify a 'best' stock for three of the smaller sectors (communication services, utilities and energy).
1. Financials – Commonwealth Bank (CBA)
The selection of Commonwealth Bank didn't warrant much discussion. The other contender was Macquarie Group (MQG), which while we are great fans, is more volatile because of its business mix (investment banking rather than commercial banking) and geographic spread.
For more than a decade, Commonwealth Bank has traded at a premium to its three major bank rivals because it has the best technology, the strongest balance sheet, the best franchise (number 1 or 2 in core markets) and the best leadership team.
CBA has been a strong performer during the pandemic, and again outperformed its major rivals. Over the last 12 months, CBA has added 40.0%. With dividends, the return is 43.5%.
Commonwealth Bank (CBA) – 10 years to 7/2021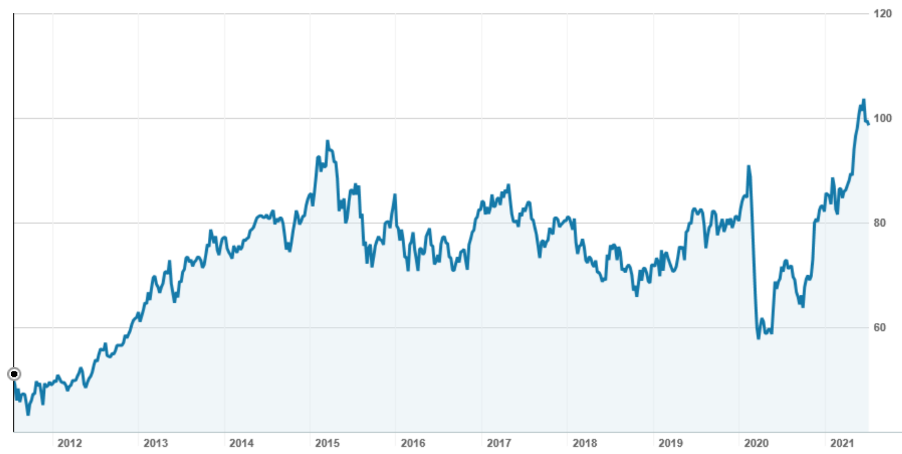 source: nabtrade

Commonwealth Bank is not the cheapest bank and in terms of immediate value (I prefer NAB). But as a cornerstone, it is significantly ahead of its competitors.
2. Materials – BHP
The 'big Australian' is the most diversified of Australia's major material companies, with high quality iron ore, copper, metallurgical coal and petroleum assets. It is a low cost producer with some of the best assets in the world. It had a "misstep" with the Samarco mine disaster in Brazil in 2015 and lost credibility with the market trying to maintain a fundamentally floored progressive dividend policy. Following the resignation of Chairman Jac Nasser, it has worked hard to strengthen its balance sheet, increase productivity and apply absolute focus to shareholder returns. Now regarded again as a 'blue-chip".
Over the last 12 months, buoyed by record iron ore prices, BHP has added 35.7%. With dividends, the return is 41.4%.
BHP – 10 years to 7/2021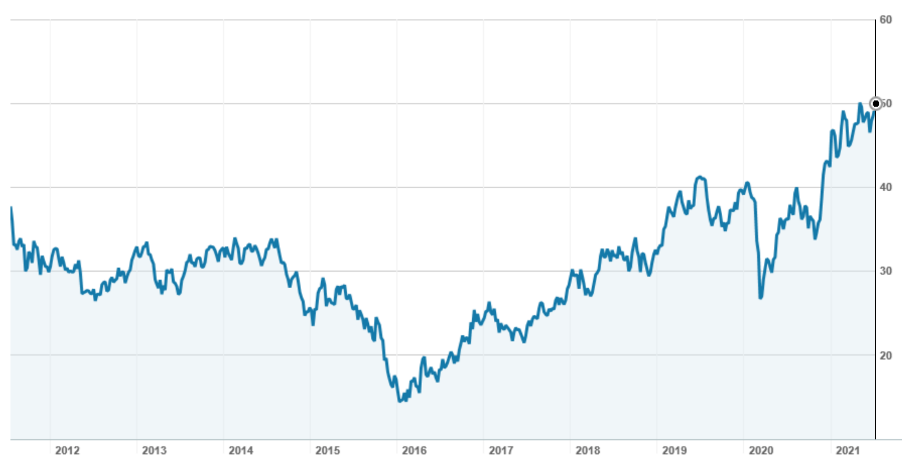 source: nabtrade

3. Healthcare - CSL
Australia's third ranked company by market capitalisation, CSL is unquestionably our leading health care company. The global leader in blood plasma products and number two in influenza vaccines, CSL earns more than 90% of its revenue offshore.
Shareholders who paid the equivalent of $0.77 per share in the privatisation of the old Commonwealth Serum Laboratories in 1994 have seen the value of their investment increase by almost 400 times.
CSL – 10 years to 7/2021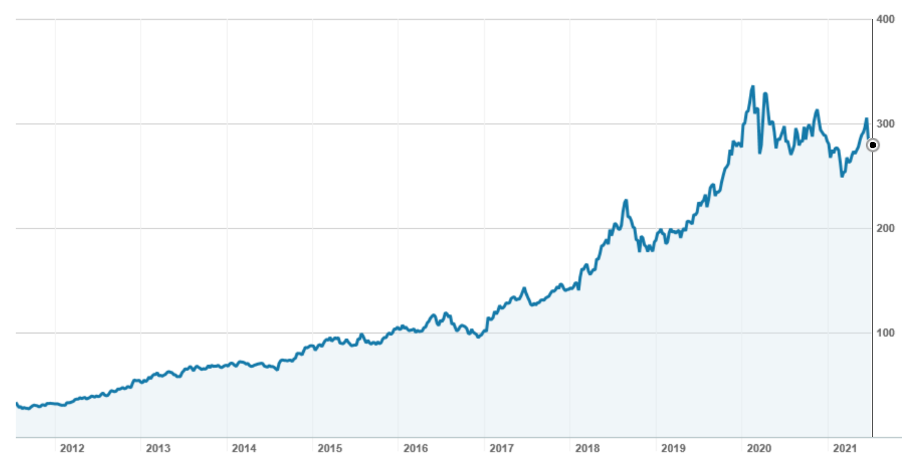 On the ASX, CSL has struggled over the last 12 months and is essentially flat – down 1.9% in price. Concerns about the collection of blood plasma, a stronger Aussie dollar and a perception that it had become too expensive are cited as reasons. But the company has a history of "under-promising/over-delivering", and shareholders will be hoping that CSL does this again when it presents its full year profit report in August.
4. Industrials – Transurban (TCL)
Benjamin Graham is credited with saying that there are only two certainties in life – death and taxes – but if he had nominated a third, it would have been road tolls (at least for Sydney, Melbourne and Brisbane residents). Transurban (TCL) is Australia's largest operator of toll roads, owning about 80% of all assets in this category.
Not your average 'industrial' company, it gets classified in this sector because of its connection to transport. And because it has been so successful, it is the largest company in the industrial sector.
Transurban (TCL) – 10 years to 7/2021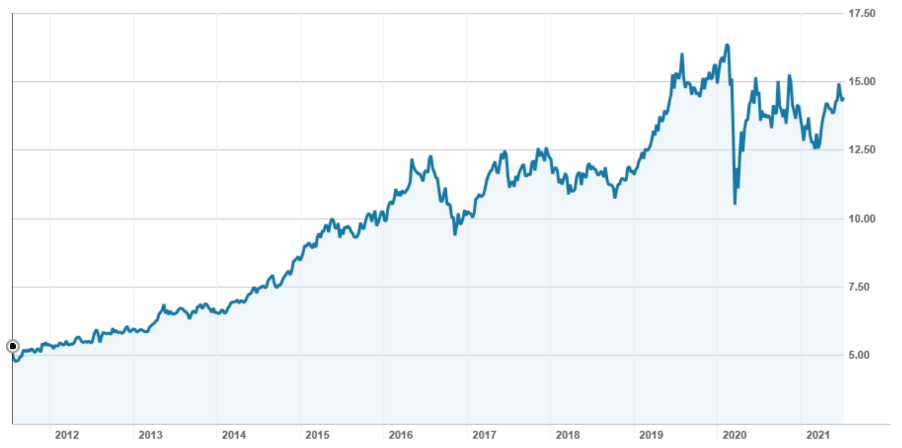 source: nabtrade

For the last 12 months, Transurban has returned 5.0%, 7.7% with distributions.
5. Real Estate – Goodman Group (GMG)
Goodman Group (GMG) was one of the few real estate groups not to have downgraded earnings guidance due to the Covid-19 pandemic. For FY21, Goodman is forecasting an operating profit of $1.2bn and an increase in EPS (earnings per share) of 12%.
Its focus on warehouses and large scale logistics facilities has been rewarded, as customer demand in the online, logistics, consumer goods and digital economy has supported portfolio fundamentals and development activity. It has a $9.6bn development pipeline and assets under management worth $52.9bn.
Goodman operates through three divisions which roughly contribute a third of earnings each – property investment, development and property management. It is internationally focussed, with 31% of revenue from Europe/UK, 24% from Asia, 9% from the Americas and 36% from Australia/NZ.
The rise in Goodman's share price over the last decade (as shown in the graph below) is quite impressive. For the last 12 months, it is up 40.3% and at $21.34, is fully valued according to the major broker analysts.
Goodman Group (GMG) – 10 years to 7/2021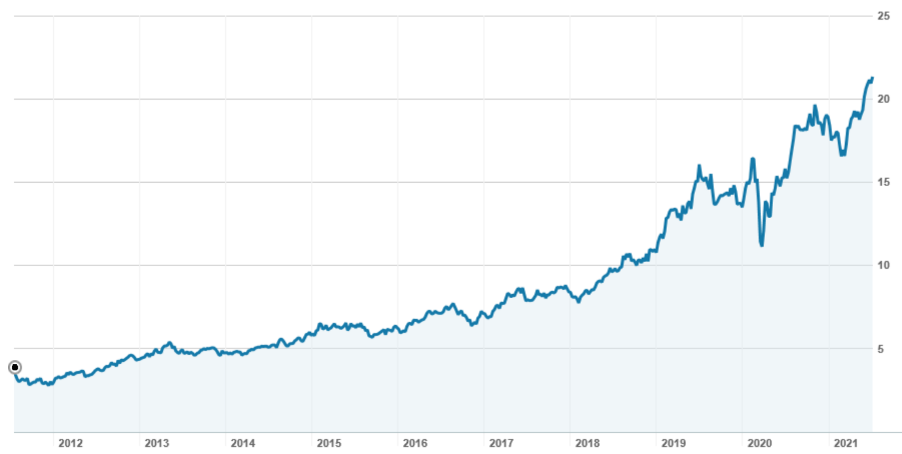 source: nabtrade
6. Consumer Discretionary (Wesfarmers)
Another company with an impressive share price graph is conglomerate Wesfarmers (WES). More than half its revenue and earnings is generated from the powerhouse of Bunnings, leading to its classification in the 'consumer discretionary' sector. Other businesses include Officeworks, Kmart, Target and an industrial and safety division.
Under CEO Rob Scott, it has divested the Coles supermarket business and has exited coal mining. Acquisitions have been fairly light, with an investment in lithium producer Kidman Resources the notable exception. Today, it announced a bid for Australian Pharmaceutical Industries (API).
Wesfarmers (WES) – 10 years to 7/2021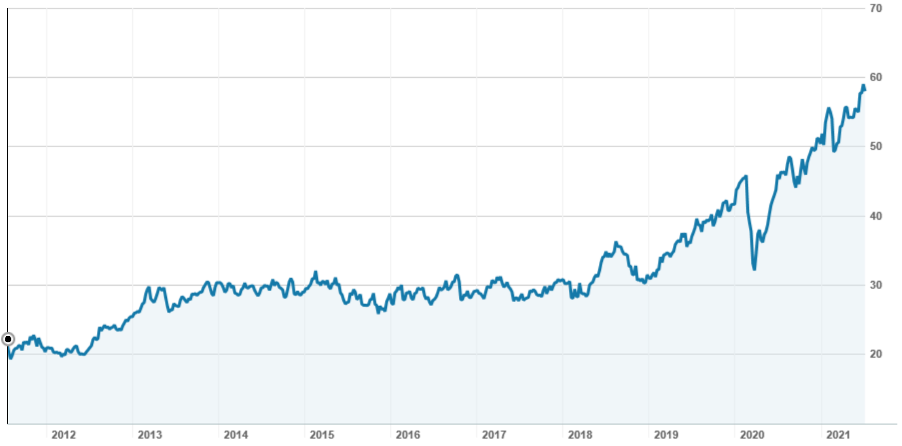 source: nabtrade
While Wesfarmers has not been without an occasional "misstep" (its attempt to "Bunningsise" the UK with Homebase cost shareholders a couple of billion dollars), it's generally been pretty successful in managing the portfolio of businesses. Cashed up, it is looking for growth opportunities.
Over the 12 months, Wesfarmers share price has risen by 27.1% and with dividends, generated a total return of 31.1%.
7. Consumer Staples – Woolworths (WOW)
A defensive sector, it largely comes down to Woolworths or Coles. We have gone for Woolworths as it leads Coles in the supermarket business on key metrics such as gross margin, sales growth and cost of doing business.
Woolworths (WOW) – 10 years to 7/2021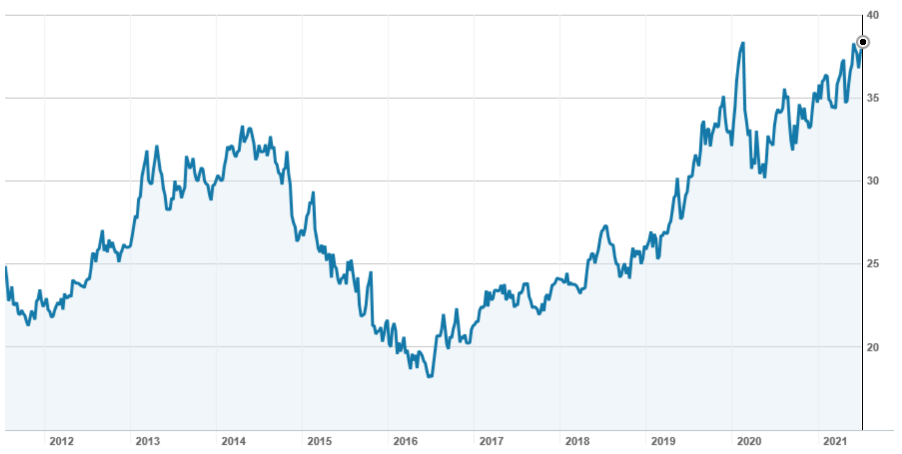 Woolworths has had its "missteps" including the Master hardware debacle, but under CEO Brad Banducci, has re-built market confidence. Big W has returned to profitability and the demerger of the Endeavour Group (Dan Murphys, BWS, Australian Hotels) has been completed. The latter has largely removed the ESG noose from Woolworths (concerns about poker machines and alcohol).
Over the last 12 months, Woolworths has added 16% in price and delivered shareholders a total return of 18.6%. This is adjusted to reflect the demerger of the Endeavour Group.
8. Information Technology – Xero (XRO)
Many of the companies in this sector can't demonstrate a "long term" track record, but one who can is accounting "software as service" business Xero (XRO). With 2.7m customers (1.2m located outside Australia/NZ), Xero grew operating revenue by 18% and EBITDA by 39% in the year to 31 March.
Xero (XRO) – 9 years to 7/2021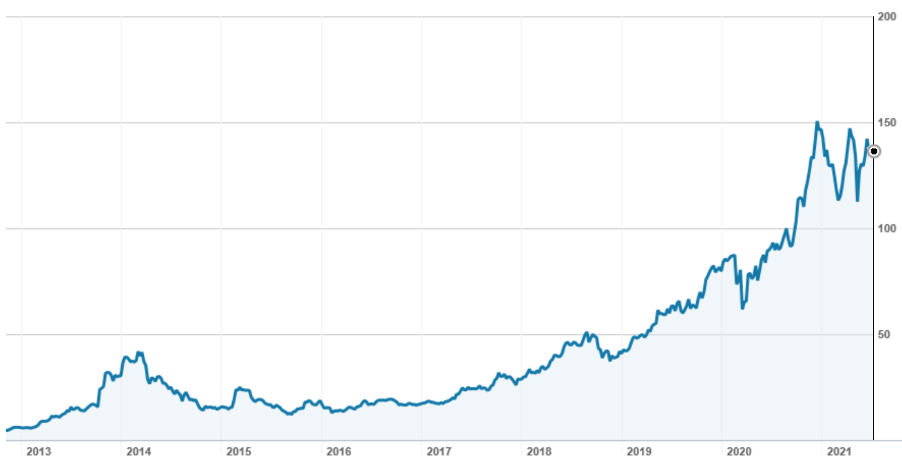 source: nabtrade
Xero now dominates the Australian/NZ small business accounting software market and its challenge will be driving profitable growth in the UK and US markets. Like other IT companies, it is arguably way over-valued, but on track record in developing the Australian and NZ franchises, it warrants backing.
For the year, Xero rose by 46.0%, although in the second half it has largely been flat.
How are we doing?
One year on, the returns are listed in the table below. Taking a simple arithmetic average (with no weighting for sector size), the eight stocks are up by 26.0%. This compares to the benchmark S&P/ASX 200 index, which over the same time period is up by 22.1%. When dividends are included, the average stock return is 28.7%, 2.8% ahead of the market's 25.9%.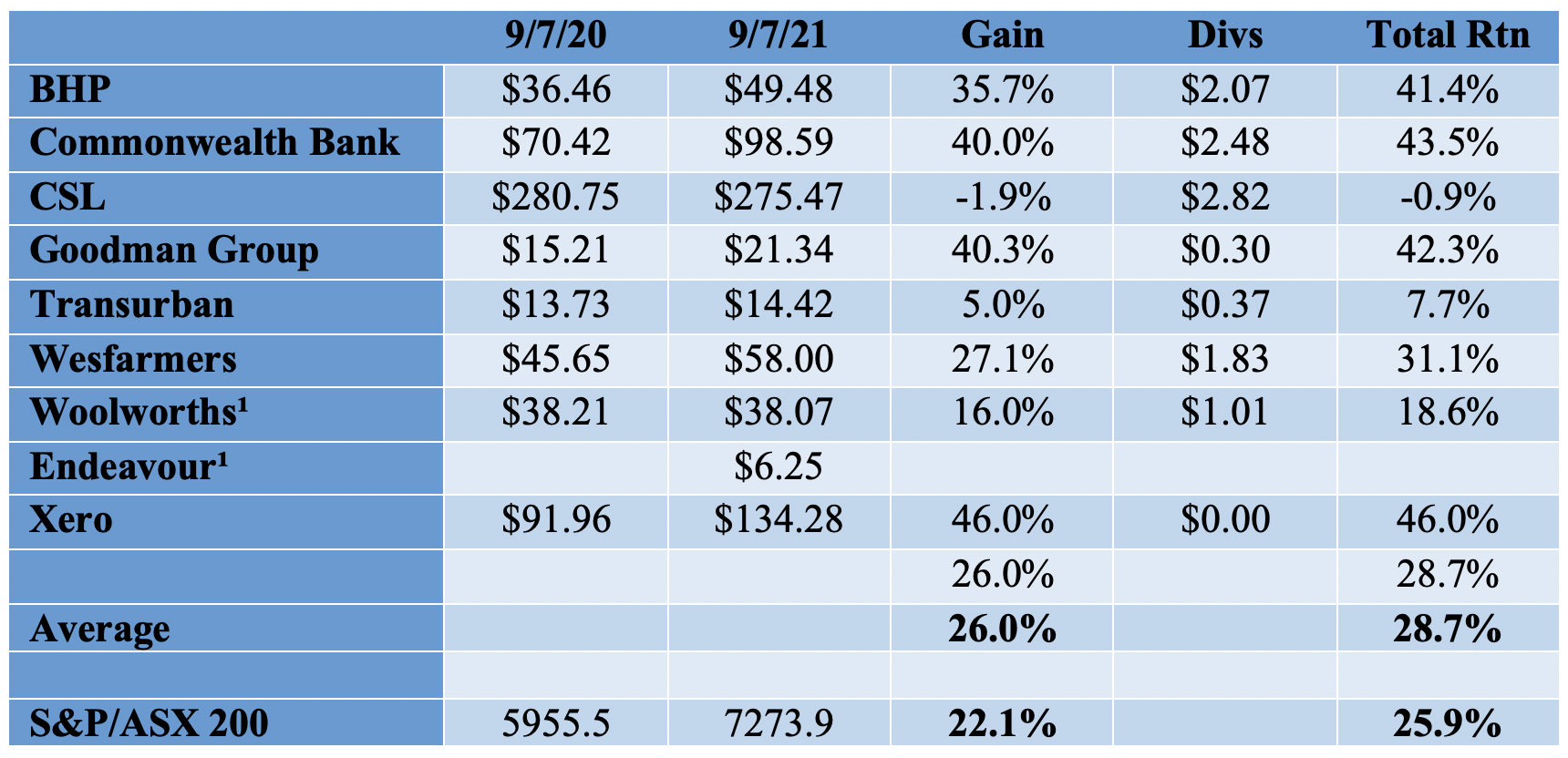 Endeavour Group demerged from Woolworths 6/21. Woolworths return adjusted to reflect this
Of course, what we are really interested in is how they perform over the long term. But, it is encouraging to note that they are off to a good start and importantly, none has had a shocker.
Changes?
Firstly, are there any candidates in the other three sectors – utilities, energy and communication services. I can't nominate any company in the first two, but in communication services, REA Group is potentially a contender.
Of our existing 8 sectors and stocks, the company that I am most concerned about long term is Transurban. That's because it faces two headwinds – working from home and driverless cars. How these play out, and how quickly, are "unknowns" at this point in time – but in my crystal ball, I fear that they will have a negative influence on traffic.
I am not ready to remove Transurban, partly because I don't think it is the environment to replace it with a company such as Qantas, and also I really like its business model with guaranteed, above-inflation increases in tolls each year.
Many of the stocks are trading at pretty heady multiples. That's not surprising, because they are not dud stocks. So don't let that be a reason not to own them. Rather, take the opportunity in market dips to make them "cornerstone stocks" in your portfolio.
All prices and analysis at 12 July 2021. This information was produced by Switzer Financial Group Pty Ltd (ABN 24 112 294 649), which is an Australian Financial Services Licensee (Licence No. 286 531This material is intended to provide general advice only. It has been prepared without having regard to or taking into account any particular investor's objectives, financial situation and/or needs. All investors should therefore consider the appropriateness of the advice, in light of their own objectives, financial situation and/or needs, before acting on the advice. This article does not reflect the views of WealthHub Securities Limited.
13 July 2021 12:34 PM
By Paul Rickard
Related Tags
Banks
COVID19
Tech
nabtrade Stock Ideas