Will 2020's best performing sectors perform again in 2021?
Recent articles
Starting the year at 6,684, the S&P/ASX200 rose to a high of 7,163 on 20 February before plunging 37% to hit 4,546 just 32 days later on 23 March. It has then rallied and by the close of business yesterday, it was just 5 points below where it started at 6,679. With dividends included, it is up 3% for the year.
But talking about the performance of the overall market masks the massive differences in the performances of the almost 1,500 listed companies and the different industry sectors they represent. Each stock is classified into an industry sector group using the GICS (Global Industry Classification Standard) system.
Sector views are really important for "top downers": professional fund managers and other investors who start with a big picture view, then consider the industry factors, drivers and outlooks, before finally selecting the individual stocks that make up their portfolios.
Interestingly, there is a tendency for what is known as "mean reversion" or the propensity for returns to revert to the long-run average level. So although we say that "past performance is not an indicator of future performance", performances in 2020 and earlier years can be relevant to what may happen in 2021. In simple terms, the best performing industry sector in one year is sometimes amongst the worst performing the following year. Not always, but sometimes.
So before thinking about 2021, let's look at how the industry sectors performed in 2020.
2020 – information technology and health care star
Thanks to the likes of Afterpay, Xero and NextDC, information technology has been the best performing sector in 2020 returning around 44% (see table below). This follows a stellar performance in 2019, and positive returns for 2018, 2017 and 2016.
Health care also enjoyed a positive return for the fifth consecutive year, although the rise of the Australian dollar impacted the sector in the latter half of the year as industry leaders CSL, Resmed, Cochlear, Ramsay and Sonic have substantial offshore earnings. It's now the third biggest sector on the ASX with a market weighting of 11.4%.
Given the lockdowns and economic slowdown caused by Covid, consumer discretionary was somewhat of a surprise performer with a return of 10.3%. Retailers Wesfarmers (owners of Bunnings, KMart and Officeworks), Harvey Norman and JB Hi-Fi went gangbusters as stay at home consumers splurged on furnishings, entertainment, DIY and electronics, more than making up for the miserable performances of the gaming stocks.

Sector Returns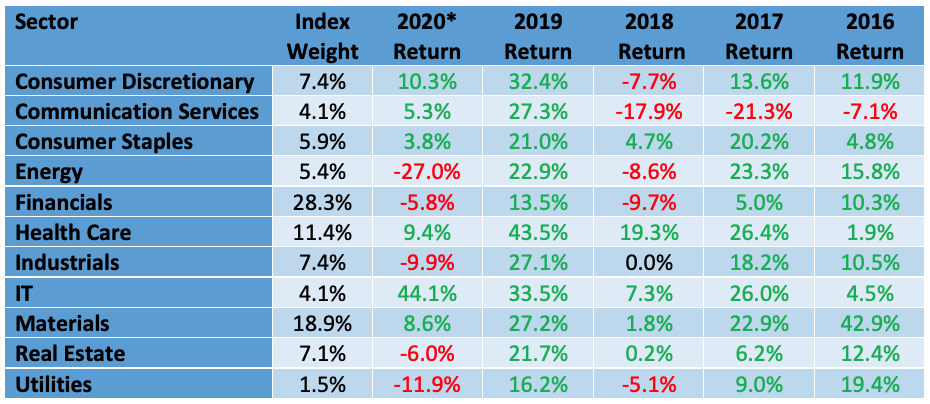 * 2020 to 30 November
At the other end of the spectrum, financials, utilities, energy and real estate have been the poorest performing GICS sectors. Although rallying strongly in November, the major banks are challenged by the lack of revenue growth and have been underperformers. The real estate sector was hit by two material behaviour changes – the acceleration in online shopping and people working from home – which has the potential to impact valuations of commercial office buildings and shopping centres if demand for space wanes.

Which sectors will do best in 2021?
I would like to say that financials will be amongst the best performing sectors in 2021. However, although mean reversion is a possibility, it is hard to see the market wanting to substantially re-rate the sector – yet. With interest rates staying low and credit growth in low single digits, opportunities to grow earnings look more likely to come from the cost line rather than the revenue line. There will be a write-back of Covid-19 provisions and dividends will increase, probably to about 75% of 2019 levels. And capital returns from CBA and possibly ANZ can't be ruled out. But I am not ready to go overweight – I am staying index-weight.
The sectors I am going for in 2021 are consumer discretionary, consumer staples and information technology. The former, consumer discretionary should do well because the Aussie economy is booming, supported by ultra-low interest rates, increasing consumer confidence and the "wealth effect" of a recovering housing market and stock market approaching record highs.
The defensive consumer staples sector should also be a winner. Despite the huge surge in sales for the supermarkets in 2020 due to the lockdowns, I think there is going to be some carry over business into 2021 and cost pressures will ease. Certainly, the price wars are over. In another part of the sector, beaten up stocks such as A2 Milk and Treasury Wine Estates will find appeal.
And while information technology is due for a pullback and is very much a "stock by stock" proposition, the macro divers say this is a sector to be overweight. Stay with the quality, as many of the stocks are hideously expensive. This will also protect if rotation in the USA continues (out of "tech' and into "value") and the Aussie market follows in its wake.
Another sector to be potentially overweight is materials. A weakening US dollar, global economic growth and government spending on infrastructure all bode well for non-precious metals, packaging and construction materials. The risk is that our current trade spat with China deteriorates further, and starts impacting our ability to ship iron ore, copper and other materials.
I remain a fan of health care (it has the tailwinds of an ageing population, increasing demand for health services and increasing expenditure by government.), but I think the weakening US dollar (appreciating Ausbie dollar) will work against it.
Who will be the under-performers? I am going for real estate, utilities, communication services and industrials. The latter, industrials, is arguably misnamed because some of the leaders (toll road operator Transurban and Sydney Airport) are not really "industrials" in the classic sense. Normally, stronger economic growth would be a positive for a sector like this. However, rising bond yields (which could affect the "bond proxy" stocks such as Transurban), and a rising aussie dollar, will dampen sentiment. I am also very wary of the real estate sector (particularly office and shopping centre property trusts), where I expect softening demand to impact rents and ultimately valuations.
That's my take on the sectors for 2021. Good investing!