Riding the share market's rebound with ETFs
Recent articles
"It is better to be fearful when others are greedy and greedy when others are fearful." – that's one of the most famous quotes from the renowned American billionaire investor Warren Buffett.
Investors who heeded those words when global shares were falling at the end of last year – amid worries about a Trump trade war, US central bank raising interest rates and a world recession – would have made some decent returns!
Since December our stock market has rebounded more than 10% but it remains below its all-time peak. The S&P/ASX 200 Index was around 6,250 points at the time of writing and if a lot of things happen we could see our index at 7,000 by the end of 2018. But rather than getting bullish let's assume a rise to 6,700 this year, which would mean if you invest wisely you could make around 450 points or 7.2% and say 2.5% from dividends and that would be close to 10%.
While there appears to be the potential for gains ahead, many investors don't have the time or don't want the inconvenience of picking individual stocks. One way to save yourself from this headache could be to invest in ETFs (exchange traded funds). ETFs are funds which hold a basket of securities and trade just like stocks – nabtrade provides an explanation of how they work here.
The number of ETF investors in Australia grew by 22% in the 12 months to October 2018, reaching a record high of 385,000, according to the 10th annual BetaShares/Investment Trends ETF Report. So it's fair to say that these products are gaining traction.
ETFs that you can buy that capture the biggest 200 companies on the Australian stock market have the ticker codes IOZ (iShares Core S&P/ASX 200 ETF) and STW (State Street SPDR S&P/ASX 200 ETF). They could be a great way to play your economic and business optimism and ride the share market's rebound. iShares and State Street are among the world's biggest ETF providers.
State Street SPDR S&P/ASX 200 ETF (STW:ASX) - five year chart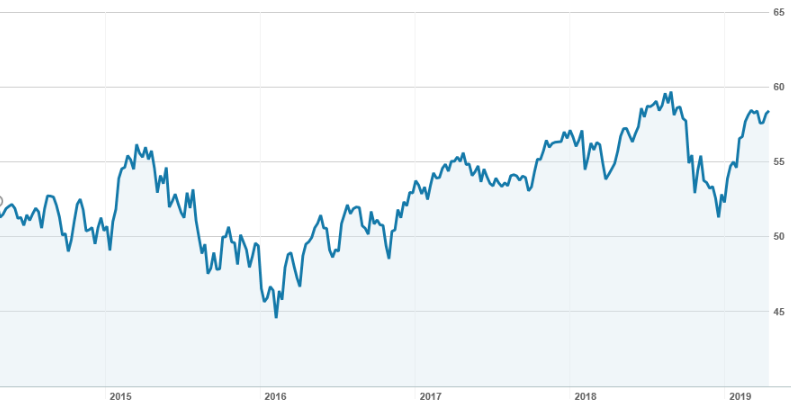 Source: nabtrade (as at 16 April 2019)

Reasons to be bullish
The things that could make for a better year are looking up.
The latest US jobs for March revealed 196,000 newly-created positions when economists expected 175,000. This was a much better result than February's lousy 20,000 figure, which was revised up to 33,000.
Importantly, it cooled down the hothead pessimists who have been praying for a recession. And bond yields rose reducing the fears about an inverted yield curve.
Optimism on the economy showed itself on the New York Stock Exchange, with materials and financials stocks surging, which has to be good for our market. These two groups account for 50.6% of the S&P/ASX 200 Index.
This kind of upward trend could easily continue in Australia for the rest of the year, with promised tax cuts from both Labor and the Coalition after the upcoming election bound to help our economy.
Of course, we have to contend with this pesky election on 18 May and it could easily take the gloss off optimism that should be carrying stocks higher right now. It could be argued that Labor's policies could be less pro-market than the Coalition's but there are many who think there could be a rush for stocks and property before the capital gains tax discount is reduced from 50% to 25% on 1 January if Labor wins the election.
The idea is that any asset bought before 1 January will carry a 50% capital gains tax discount, which is better than the 25% discount that will prevail from New Year's Day.
Back overseas and let's see what Wall Street and overseas forces are set to send down the stock market pipe over the next few months. But before this, let's take a look at what happened to US stocks over the past five years.
The chart of the US S&P 500 Index - as represented by the iShares S&P 500 AUD Hedged ETF (IHVV:ASX) - below shows it has spurted higher from 2016. It started before the November win in the US elections by Donald Trump because the US economy had started to recover and show that super low interest rates around 0% and lots of bond-buying by the US Central Bank (the US Federal Reserve or 'Fed') giving cheap money to business and consumers actually produces economic growth.
Early Trumponomics and especially his tax cuts propelled the economy and stock markets higher but that growth led to the Fed getting too enthusiastic about interest rate rises, just as the Trump tariffs on China and elsewhere, along with trade war threats hurt global growth and stock prices. The big dip in the graph below in late 2018 was the consequence.
iShares S&P 500 AUD Hedged ETF (IHVV:ASX) - five year chart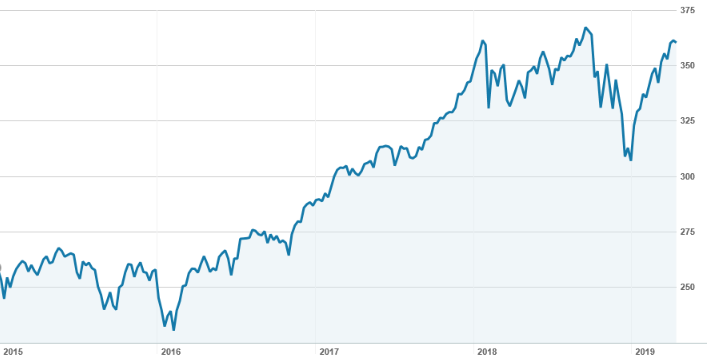 Source: nabtrade (as at 16 April 2019)
Now many of these negatives are turning positive.
The Fed has opted for "patience" on rates. A trade deal agreement is expected sooner rather than later. China is stimulating and the economy seems to be responding and the EU is in stimulation mode as well, providing cheap money to banks for lending purposes.
And the jobs report seems to be saying that if a recession is coming, it's still a way off yet. Economic readings will remain important and the market didn't miss the weaker services sector reading for last week.
This is how Trading Economics saw it, stating in a note: "The ISM Non-Manufacturing PMI index for the United States slumped to 56.1 in March of 2019 from 59.7 in February, below market expectations of 58. The reading pointed to the weakest expansion in the services sector since August of 2017, amid a slowdown in production and new orders."
It continued: "Respondents remain mostly optimistic about overall business conditions and the economy but concerns remain about employment resources and capacity constraints."
By the way, any number over 50 means the sector is still expanding but just at a slower rate.
Watch out for US reporting reason
The next hurdle for US stocks will be reporting season and the analysts' guesses aren't all that positive and it happens with share market indexes very close to all-time highs, which makes me a little nervous. That said, I expect improving economic readings along with positive vibes from a China-US trade deal will help stocks.
And while it looks like we will see the worst US earnings season in three years, many experts think this could be the low before profits rebound. It makes CEO outlook statements really important and a trade deal is bound to deliver both certainty and clarity on opportunities for those trying to guess their companies' fortunes. That said, the experts say the second-half of 2019 will bring a rebound in US company profits. These will drive Wall Street up and we tend to play follow the leader.
The mob that makes a business out of guessing US company profits has the first quarter down 2.2% followed by a rise of 2.8% in the second quarter and a 9% surge in the fourth quarter. If these guys are right, it means a boost for stocks on the way.
Numbers man, Sam Stovall, who used to work for Standard & Poor's when I interviewed him a few years ago in New York for my TV show, is now chief investment strategist at CFRA. He told CNBC that's what's showing up in his crystal ball: "I think maybe we end up getting to a new high sometime early in the second quarter, and then maybe we do some sideways moving in that 'sell in May' period."
He added: "I think we confirm that 10th anniversary of this bull market by hitting a new all-time high. Then we digest some of those gains and move sideways for a bit and let some of those earnings catch up, and then maybe there's a year-end advance."
So that means just when our election is over and there could be a relief "thank God the polls are behind us" rally Wall Street could be due for a damn pullback!
So could we resist the lead from Wall Street?
Well, on one hand, a Labor victory could have implications for investors but it would probably be factored in by the market before we vote. And then there could be a rush to buy stocks and property before 1 January next year, when negative gearing laws change and the capital gains discount goes from 50% to 25%, subject to Labor being elected and managing to get those proposals through of course!
If the rest of the year scenario for US earnings, economics and stocks is right and China's stimulus program continues to work, then along with election effect on investing after 1 January , I suspect our market can have a good year for stocks. Year to date we're up more than 10% so a pullback followed by a bounce back is my best guess. And that's how I'll be playing it until the facts change, which of course I'll be on the lookout for 24/7.
After all of this I think you can see why investing in Australia via an ETF such as IOZ or STW makes a lot of sense. And remember, even if I was wrong on the capital gain this year, these ETFs pay a usual dividend of around 4.2% per year (not accounting for franking credits), which still beats term deposits.
Of course like with all investments ETFs there are risks and other things to consider. The ETFs I spoke about in this article invest in Australian shares, which can be volatile. Other things to also consider when it comes to ETFs are tracking error and the cost of investing (brokerage, manage fees and spreads). Be sure you to understand these before making an investment!